Internet marketing has been shown to offer small and medium scale businesses the highest returns on investment when compared to television, radio, events, sponsorship and direct mail marketing methods.
Internet marketing strategies involve many different techniques which revolve around your website – acting as the foundation of your on-line presence. An effective website design will set you apart from your competition and improve the conversion rate of customers that you get to your site, but the next step is to start attracting more visitors – as efficiently as possible.

How to promote your new website after launch
Some people who are new to internet marketing, think that after launch a website will behave like a print magazine advert – assuming it will be visible to and viewed by the whole web.
It would be better to think of your new website as the ultimate interactive catalogue of of your business and services – a highly customisable, interactive tool used to attract and convert potential customers into sales.
Much like a printed catalogue – a website should represent the business professionally and then be distributed to as many people as possible – with targeted distribution, offering higher returns on investment.
One of the greatest advantages of the internet lies in the cost-efficiency of distribution and the ability to promote globally at a fraction of the cost of conventional marketing mediums. The other great aspect is the ability to track almost every customer interaction and click across the web and back to your site, through to an enquiry or sale.
Tracking and analysis
The analysis of tracking data can reveal the performance of your website, click-adverts, email campaigns and social media activity, enabling us to determine what works, what doesn't, and where key opportunities lie.
All websites from Alloy come with Google Analytics tracking installed so you can access the data and have a look yourself. But chances are you will need professional support to get the most out of this data. Ongoing analysis and recommendations are provided free to customers who receive monthly marketing support. Read more on the Google Analytics analysis service.
What are the best tactics to promote your website?
With so many options available and with some offering better value to certain types/scales of organisation, smaller businesses can benefit from professional assistance in developing a cost-effective marketing strategy. The general areas that should be covered can be seen below roughly in order of cost-efficiency.
1. Word of mouth marketing
Where do you start?!
Family, friends, colleagues and prior customers can be encouraged to visit and link to your website, to help start getting the word out about your new online 'presence'.
Networking
When meeting and networking with potential customers, business cards are an essential tool for leaving a lasting professional impression with potential customers, whilst other promotional material like flyers and leaflets can help out in some scenarios.
Build a strategy for your ongoing networking tasks and obligations
Prepare all the necessary promotional materials and focus on your goals, before any events
Spend some time considering all your customer demographics and prepare the best possible combinations of printed media ready for any opportunities.
In some cases a business card will do, in other situations you may need: template introductory letters, flyers, leaflets, brochures, flashcards or even a tablet device with interactive
Community involvement
These tactics can contribute to the marketing strategies of smaller, local businesses but don't scale very well for larger businesses:
It can be helpful to find local shops, community centres and cooperatives which are used by potential customers and try to leave a poster or stack of flyers, leaflets or brochures on the reception counters
Get involved with any local business associations & trade associations
Some local businesses can gain exposure from charity and sports teams sponsorships
Spend some time finding your local businesses and take a look at their websites – see if they will blog or mention your business website in exchange for a discount or offer on your goods/services.
Think outside the box when networking with local businesses to beat your competitors
---
2. Search engine optimisation advice & tips
Search engines have opened a new marketing channel that can benefit small and medium-scale businesses
Now that so much of day to day life involves technology and interaction with the web through searching – the process of improving your website's performance in the 'organic' (natural) search results can deliver some of the highest returns of all available marketing mediums.
In the past, search optimisation involved complex coding and trickery to fool the search engines to the top of the results. Some companies still implement these techniques but are being punished as Google cracks down on spam and develops advanced semantics algorithms to reward unique, useful and informative content. Find out of your website is at risk of penalties from Google with a search engine optimisation audit.
Common question: How does Google search work?
The Official Word from Google themselves
Google's former spokesman for the quality of Google search results Matt Cutts explains how Google finds website pages through links, "indexes" them (for storage) and then ranks the pages to appear in search results for particular search keywords entered by the user:
So – how do you appear in the search results?
Search engine optimisation is the process of improving a website and the "presence" of a brand on the internet, in order to increase visibility in the organic search engine results. Because search engines do not accept payment for listing in the (organic) search results – this involves optimising a website for hundreds of factors (as Matt Cutts mentions in the video) to improve the website compatibility, whilst creating a quality website that others will want to link-to.
What can you do yourself? There are aspects of SEO that you the business owner can do yourself, to improve progress of your webpages up the rankings.
But at some point before you reach the top of page 1, you are likely to be held back by competitors who have got the edge over your website, in Google's opinion at least.
To get above these competitors in the rankings, you need to invest in Search Optimisation from a reputable provider, who will assure you of proper representation of your business online.
---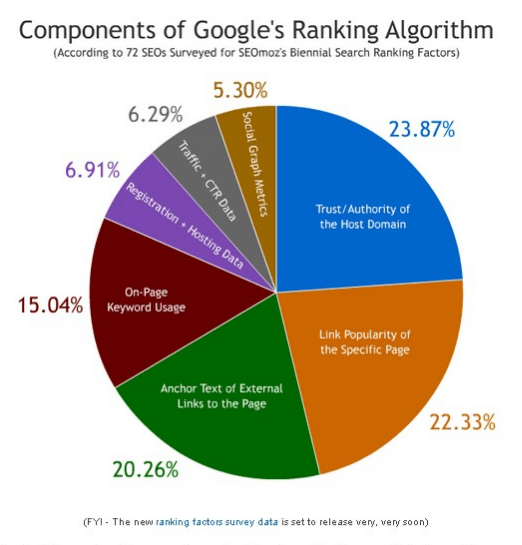 Case study: SEO in 2011
Search engine optimisation in 2011 relied upon the technical aspects of writing clean & compliant website code and enabling search engine spiders to read and access all the content. But the more important considerations as ever were creating and producing unique and useful content and then creating interest elsewhere on the web in the form of brand name mentions or even better – links back to the target website.
As seen in the diagram to the right, optimisation has many influencing factors, that could be simplified into 2 halves – On-page and Off-page SEO. These 2 aspects work more effectively when used together in a properly planned strategy.
---
On-page SEO
On page SEO involves optimising hundreds of factors on your website to satisfy the Google ranking algorithm. Factors include coding, the link/menu architecture and the content of the pages – both text and images. On-page SEO is often the first recommendation as internal improvements to your website are often the easiest and cheapest to correct and improve.
Once a website's coding, structure and content is optimised, the next step is to produce more content as regularly as possible. Google's recommendation to website owners looking for high search results has always been – "Content is King".
Creating great, unique content, whether text or media has benefits on many levels:
Information and resources about your business can persuade uncertain customers to buy
News and messages can encourage a dialogue with potential customers
Every new page acts as a potential 'net' to catch particular key-phrase searches from the search engines
Search engines reward new content, on topical subjects with high positions in the results
If there's no news about your business, publish your own version of news related to your industry and relevant to your potential customers
Useful content will also encourage users elsewhere on the web to link back to you – a critical factor in off-Page SEO
On-page SEO prices
On-page technical SEO – See Prices

Following an analysis of your website, all coding and compatibility errors are corrected
New pages created – From £49 per page

New static pages created on your website to help convert customers and improve SEO
Blog platform setup – From £150
Wordpress publishing platform setup, styling and configured to publish content with ease
Content creation service – £30 per 300 word article
Articles written on any subject, optimised for search engines and published either on your website or strategically across the web
---
Off-page SEO
Off page SEO has many similarities with general internet marketing, in that you are trying to build interest and awareness of your website across the internet. Though rather than trying to attract visitors directly from other websites, we aim to improve the authority of your site in the eyes of Google, by acquiring mentions and more importantly links from trusted, established and authority websites elsewhere on the net.
These mentions and links across various websites are picked up by search engines, adding to your authority score and boosting the performance of your website's pages on the search results. Before pursuing every last link from anywhere on the web, it's important to remember a few critical factors.
A mention or link from a website that has no relation to your business, for example a plumber linking to a counselling website, would have very little chance of delivering human visitors and would very likely be ignored due to irrelevance by the search engines
A link from a website that has been flagged by Google as a link manipulator may provide human visitors but will have no value to SEO
Some websites (especially on website comments sections) put a limiter on your link known as "nofollow" that allows humans to use the link, but prevents any influence being passed on to your site for SEO benefits
The best and highest value links come as rewards for great content, and when you can insert them in articles you publish on external websites
There are less than 10 websites/directories you should consider paying to become a member of, due to the value of the link you acquire
In general though, Google discourages buying links for SEO and you should seek professional advice before paying any money for a link or membership
Improve your off-page SEO performance
Various ways to contribute towards SEO and generate links to your website include the following with 'easiest' and least influential first.
Getting Twitter tweets about your business and even better – tweeted links to your website home page and subpages
Links to your website from social media profile pages – often a link on your "info" page of each network
Leaving links whilst commenting on blogs and article websites
Links from business directory websites – there are thousands of these and 99% of the links have no real value either for traffic or SEO
Links from within articles of blogs and article publishing networks
Links from review websites – especially important for local businesses
Links from within the content of any 'authority' website
Links from within the content of .edu (education) .gov (government) websites
Be cautious of link-sellers
For several years, links were disproportionately effective and relatively easy to acquire by the thousands. Many businesses, in the US, Europe and especially India, were in fact created just to sell links in order to push their client's websites higher in the results.
Over the last few years Google has been cracking down on spam and cancelling out the value of many of these links. Today Google highly recommends against companies who try to sell these "link building packages" as 99% of the links will be from far-eastern spam sites and have no value to SEO or traffic. Following the Google algorithm changes, these companies are resorting to desperate measures to cash in before the word gets out that their service is worthless.
Some links that are bought can even incur a Google penalty which would blacklist a website from the search results. We can help plan and implement 'white hat' link building strategies to ensure a reliable and long term boost in search performance.
Link building strategies
Alloy SEO and link building packages revolve around extensive experience identifying valuable authority websites, then either contacting the owner/webmaster directly for a link, publishing an article or leaving a comment that adds value to the discussion and encourages recognition of your brand.
With all link building packages you will receive advice and guidance on the best premium business directories to join as a member. With thousands of different directories, suited to particular business types and market sectors and with membership prices from £5 – £1000 per month; recommendations on the best sources to deliver targeted traffic and boost SEO performance can be a huge advantage.
Higher priced packages involve viral marketing techniques, and also 'link-baiting' whereby highly topical, interesting or controversial content is created with the aim of generating interest, links and visitors.
Off-page SEO Prices
Without contracts & cancellation charges.
SEO Package 1 – See Prices
Setup of brand monitoring tools, ongoing analysis / reporting of perfomance, link building.
SEO Package 2 – See Prices
Setup of brand monitoring tools, ongoing analysis / reporting of perfomance, link building, content creation and strategic publishing.
SEO Package 3 – See Prices
Setup of brand monitoring tools, ongoing analysis / reporting of perfomance, link building content creation and strategic publishing, viral marketing.
---
3. Social media marketing
Your customers are spending increasing amounts of time on social network sites
Facebook now has over half a billion users worldwide, whilst Twitter and Linkedin also continue to be growing and productive environments for businesses to interact with each other and potential customers. The key features that this new technology provides for smaller business are:
Cost effective and easy way to interract with the online community
Build brand awareness
Manage your online repuation
Enhance any existing customer relations management (CRM) efforts
Social media marketing advantages
Interact with the online community
Social networks are places where people look for others sharing similar interests.
If your business (and the market your business operates in) can in some way provide use or interest to the on-line community, it's possible to build strategic online relationships with customers.
Satisfied and loyal customers can be encouraged to provide testimonials and leave reviews and feedback, enhancing trust in your brand.
Whilst potentially gaining the benefits of free brand awareness from customers recommending you to their own social networks, visitors coming from these kinds of sources tend to have very high conversion rates.
Brand building
Every social media campaign aims at increasing awareness and motivating people to communicate with each other about a brand.
Encourage on-line discussion about your brand and you can boost reputation, visibility and recognition.
Respond to enquiries, concerns and complaints to diffuse potential problems and demonstrate the modern, interactive and responsive side of your business
Reputation management
Online reputation management aims to monitor and respond to the online discussion of your brand, products and services.
Take this one step further by encouraging customers to leave recommendations. Your business can gain traffic that is highly relevant and more likely to lead to a conversion.
Online reputation management can also be implemented in a very selective way. Social media channels can be used to target specific demographics within tight geographic locations.
Social media marketing prices
SMM Starter Package – £200
Set up of accounts on Facebook, Twitter, Linked-in and Google Plus
These account profiles are populated with unique content & links to specific pages on your website
Accounts are managed for 1 month, whilst working with you to learn how to contribute
Configuration of a master account with either Hootsuite or Tweetdeck
Populated with 100 unique, scheduled messages for 1 month at a time with deep-links to pages on your website and items of potential interest to the target demographic
These scheduled messages are published in the background so you can focus on productivity
It's easy to add manually to the flow of content being pushed out across the networks – of course social media works better when you interact with your community whenever possible
All access and logins are handed over at launch – there are no tie-ins
SMM Management Package 1 – £300 p/m
As above but with
500 unique, scheduled messages for 1 month at a time with deep-links to pages on your website and items of potential interest to the target demographic
Brand monitoring and weekly CRM analysis
No contract & no cancellation charges
---
4. Pay per click advertising
The main advantage of PPC advertising is that you can expect clicks and traffic from adverts almost immediately.
Your image or text ads can be displayed to customers across the internet, targeted to certain demographics or geographic locations for a certain specified cost per click (CPC).
As well as advertising on the Google search pages, you can also advertise on the 'content network' consisting of thousands of websites with Google advertising banners and text adverts.
Microsoft's Bing also have advertising platforms ready to be used by businesses to display adverts in the 'sponsored ads' section of search results, and on their 'content networks' of affiliate sites.
PPC fundamentals
You pay for every click through to your website, the cost of each click can vary drastically depending on multiple factors, including how many times the advert appears before being clicked (impressions), the relevance of the advert text, the relevance of the page that the advert takes the user to and many more factors.
Regarding AdWords – its quite easy to create a free Google account, you can top up with as much "credit" as you want via card payment. You can create some adverts for your services, choose they keywords you want your adverts to appear for, and choose the top "bid" you are prepared to pay for each click on your adverts.
In areas of the country with less competition between competitors advertising, you can get per click costs from around 10p, so if you are one of the first few companies advertising within your local area (and you have a good/high converting website) you'll find it a high ROI marketing channel.
Whereas if you're in a highly competitive area of the country, you can be paying several £s for every click.
And If your ads aren't setup well, with compelling sales copy convincing users to click your advert, you will end up paying even more for each click.
Then, when visitors click your adverts and follow the links to your website, if your website "landing page" isn't set up to convince and convert those visitors into customers your advertising investment is far less efficient.
PPC pros/cons
Common small businesses PPC issues
The common problem causing low ROI on small business AdWords campaigns, originates from the account and ads not being set up properly. You can end up paying a lot more for every click than your competitors due to the "quality score" algorithm which decides if your adverts are of "low relevance". If your adverts link to pages on your website that are "low relevance" you will end up paying much more than your competitors, who are advertising with properly optimised AdWords accounts & websites.
PPC Advertising Pros & Cons
Pros:
Easy to setup an account and create your first ads and get going
Instantly turn on/off a revenue stream when you need
Pay in instalments to top up your credit
Target keywords that your website doesn't rank-for in the main "organic results" to make sure your website has visibility for all the services you offer.
Cons
Easy to get started – means you can spend a fortune on poorly setup adverts
AdWords is a very complex tool, some of the default settings are not optimal.
3 dominant companies within a region can try to outbid each other and push up the prices for everyone, limiting your adverts from appearing in the top 3 sponsored slots, and pushing your ads into the right hand sidebar, unless you're prepared to raise your bids.
If you leave your adverts running without monitoring and adjusting bids, or removing low performing keywords, as your competitors adapt your account and individual adverts "quality score" will drop, causing all your costs per click to rise.
PPC management prices
PPC Advertising setup costs
| | | |
| --- | --- | --- |
| Type | Cost | Details |
| PPC campaign activation on Google & Bing | £99.00 | 20 different adverts created on both search engines |
| Monthly Click Costs | from £20+ pm | Topup credit to pay for clicks – Direct Debit to Google & Bing |
| Monthly management costs | 10% of your budget | Up to budgets of £499 p/m |
| Monthly management costs | 7.5% of your budget | Budgets of £500 p/m – £1499 p/m |
| Monthly management costs | 5% of your budget | Budgets of £1500 p/m + |
Performance monitoring and weekly CTR analysis
No contract & no cancellation charges
---
5. Email marketing services
How does email marketing work?
After a website launch and building some brand awareness, you should be inundated with enquiries, leads and customers. Those who choose to provide their email in a transaction or choose to be on your mailing list will become your email marketing database.
Each month you can send out your latest targeted marketing messages to the database you have gathered and get click reports.
Industry standards suggest that roughly around 25% of recipients will open the email
10% will click through to find out more about your offer
Of course you can't send out an email every day and expect these kinds of results!
A scheduled, high quality email sent out once or twice a month can deliver the highest conversion rates available from all distribution channels.
Email marketing software setup – £99
Monthly email marketing management – from £99 per month
Website marketing advice top tips summary:
Word of mouth / networking
Tell friends, family, colleagues past customers and more about your website
Search engine optimisation
Climb higher in the search results to increase visitors
Social media marketing
Interact with customers to increase awareness and interest
Pay per click advertising
Display ads across the web & only pay for clicks to your site
Email marketing
Collect email addresses from customers and website subscriptions then send them targeted messages