As Google continues to test and roll out new layouts for their search results pages, here are a few examples and observations that may help your local SEO strategy.
Search results – before the change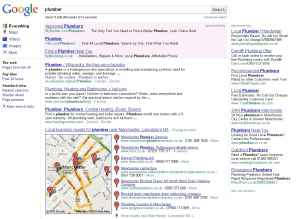 To the right you can see the Google search results for the keyword 'plumber'. Notice that in this example Google has already stored cookies from previous searches and knows that the search is coming from Manchester – there is no need to type 'plumber manchester'.
Google predicts a need for locally based suppliers and delivers 3 website resources, a wikipedia page on plumbers, followed by the yell category page for plumbers, then the Heating central home page. Below these 3 'organic' results, are the local places (7) box.
Search results after the change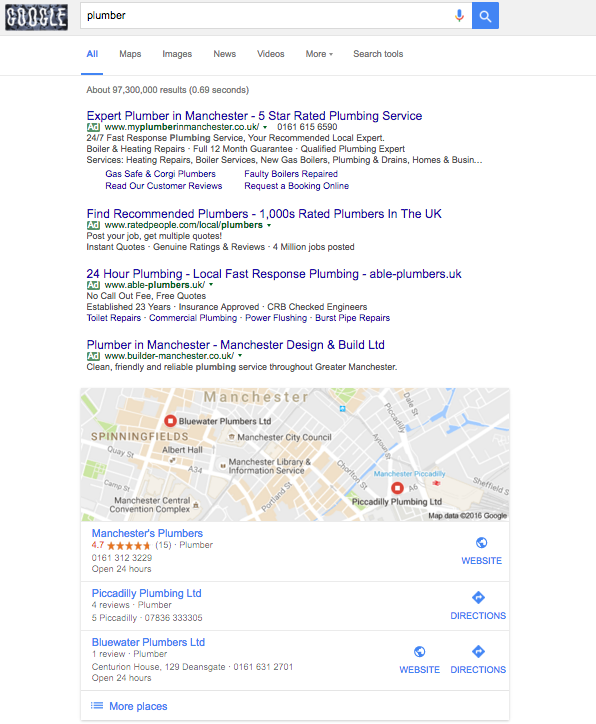 In the last few years changes have been rolled out that highlight Google's growing interest in providing not only academic and resource based search results, but also product and service based searches, intending to put customers in touch with local businesses.
The ranking of your local business listing and consequently it's exposure are based on several factors, including customer feedback.
This means that for more competitive searches, where many businesses compete to appear in the local listing, those with the best/most reviews will feature most prominently.
For those searches with less competition it is possible that competitors are beating your listing with just a few reviews. In these cases, a minimal investment in improving your local listing can significantly increase your listing's visibility and the volume of website traffic.
The maps element
You can see the maps element now appears immediately below the PPC adverts. In this example the map is the first non-paid result visible. The factors which affect which map results make it into the top 3 displayed here are varied, but importantly include the customer feedback indicated by the star rating.
Effects on Pay Per Click (PPC) adverts
On a side-note, this change to local search results highlights the growing importance of position preference in PPC advertising management to optimise visibility and click through rates of adverts.
The local listings maps page
By clicking on any of the local business listings or the map itself you progress on to a full page map with the local listings down the left.
For a website to better perform in local listings, a key factor to the ranking of pages is the feedback from past customers from particular review sites. With local listings optimisation, Google in effect encourage an element of customer relationship management (CRM) as they try to fine-tune the relevance and value of search results that are presented to the browsing customer.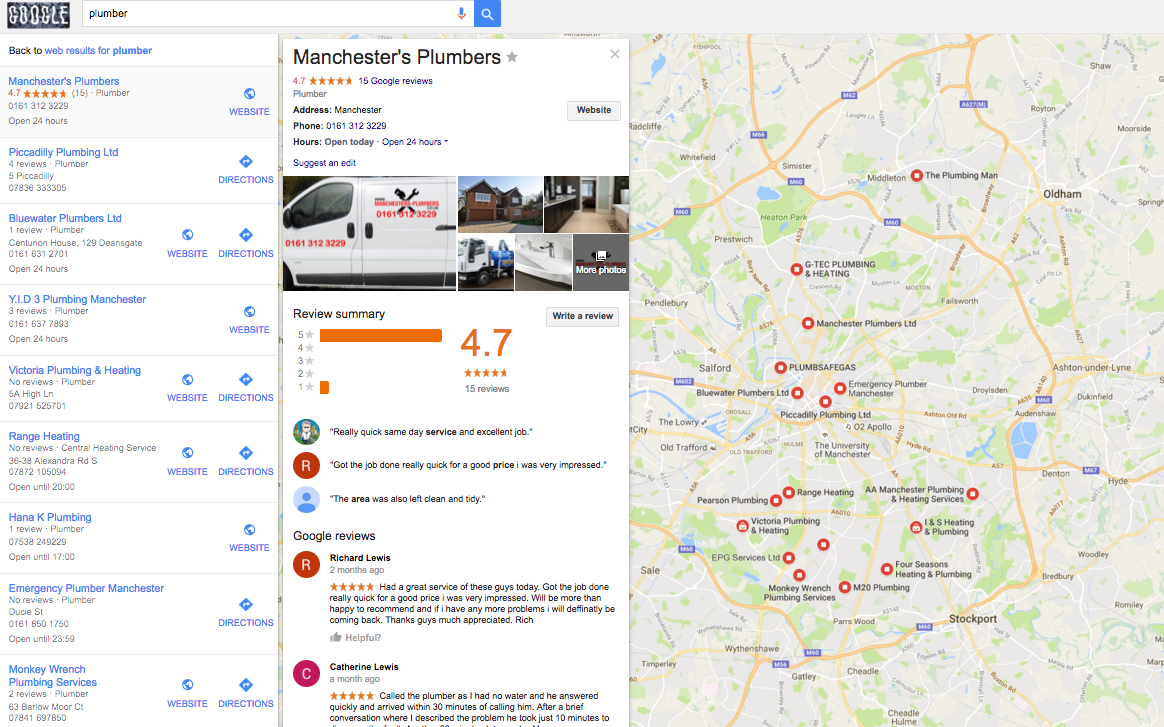 It is possible to buy local search optimisation services which aim to optimise websites and local listings to perform better as well as promoting positive reviews to those sites which will contribute to the Google ranking.
Conclusions
Google's modifications to the search results page demonstrate an increasing interest in, and service provision for, local businesses and retailers.
As new search engine features are introduced by Google, Bing, Twitter and Facebook, local and national businesses should make the most of all available opportunities; ideally working with an experienced internet marketing consultant who will have the specialist insight to get the most from the available marketing budget.