Multi location local SEO
Ensure your branches rank in their local area through multi location local SEO services with business & map listing audits, keyword optimised copywriting for your website landing pages and citation building. Get a clear view of progress with our live reporting dashboards.
Read more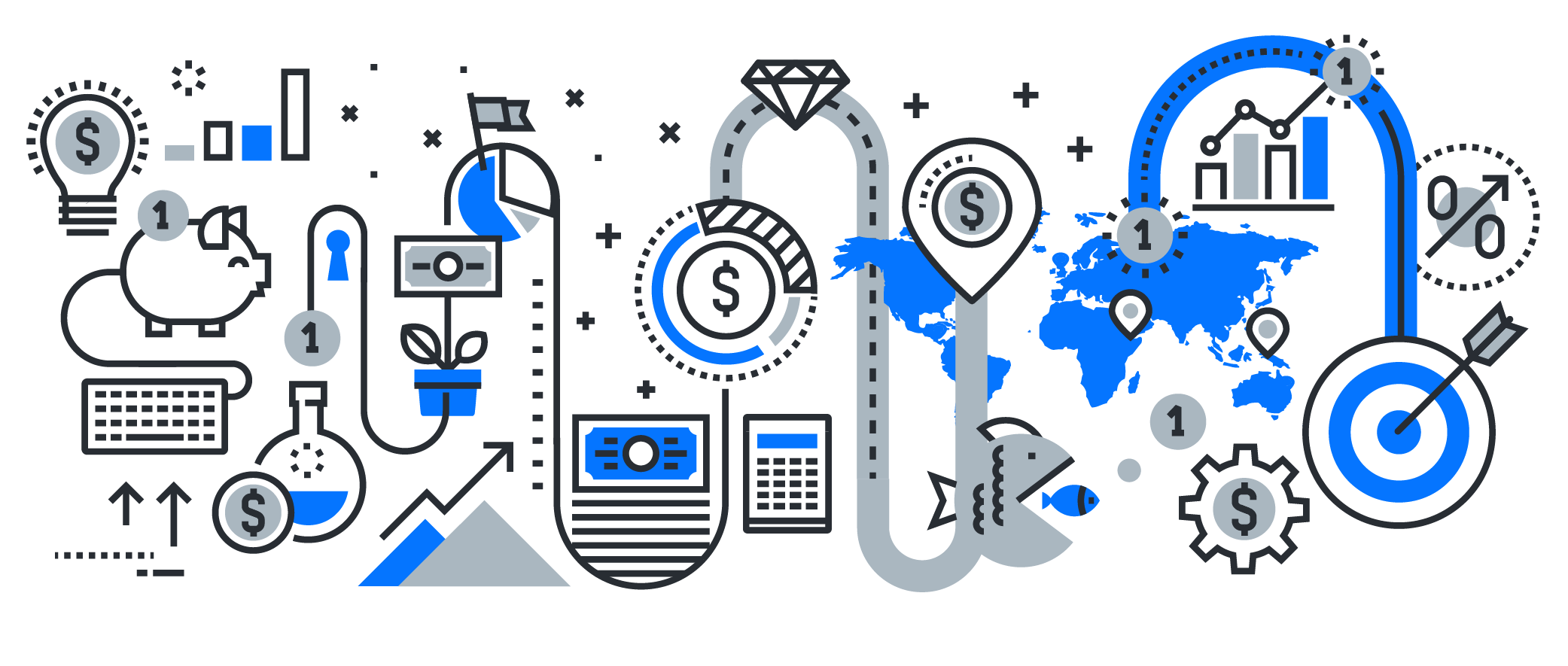 When running a business that operates in multiple locations it can quickly become a real challenge to keep on top of the local SEO for each location.
Handling day to day operations whilst maintaining even a basic web presence can be time consuming enough and often leaves SEO work largely forgotten. For all branches of a growing business to maintain and grow visibility online multi location businesses should always adopt and maintain an SEO strategy from day one. Whether you're opening up new locations or looking to untangle a complicated SEO situation, at Alloy we can properly optimise the web presence of multiple business locations to ensure each branch flourishes with our multi location local SEO services.
SEO is a vast practise, comprising of the sum total of many individual components. Our comprehensive strategies assess a business from all angles to ensure we hit all the key areas needed to sustain long term visibility and growth. When building our multi location local SEO strategies We look at a range of factors including website structures, site maps, citation footprints, reviews, mentions, original content, map registrations and more; all of which are balanced depending on the specific needs of the client's business.
Proper registration is essential
Whilst each branch of a multi location business may deal in the same or similar products or services, each location must be properly registered and displayed to signal to search engines that this is a unique branch. Without local SEO management, search algorithms can be confused by businesses with the same name but different addresses. Often this results in poor visibility for all but one branch, or even penalties in the worse cases. It is not unheard of that branch addresses can be so poorly dealt with that search engines believe them to be false references to the business.
Multi location local SEO services with impartial reporting for each branch
Our state of the art monitoring and reporting software collects a complete picture of the search performance of all branches of a business so we get a full knowledge of where the businesses are at and where the SEO problems lie. As your campaign progresses we provide access to these reports so you can monitor your improving ranking performance. We're always happy to chat through the reports with you and since they're generated by a third party you can be confident of their impartiality.
Key points of our multi location local SEO management
Each location properly registered with Google with absolute accuracy including all contact and address details.
Full maintenance of registrations as search engines adjust and refine their algorithms and visual design.
Registration of unique contact information for each branch.
Ensuring accuracy of local results listings.
Identifying unique keyword opportunities for different locations.
Review and mention monitoring for each location.
Establishing a proper website strategy for each branch whether individually silo'd webpages or subdomains.
Achieving the cleanest possible citation footprint for each branch of the business supported by unique metadata tags and descriptions.
Checking for and improving landing page accuracy for all branch links.
Optimising store finder mechanics to improve the user experience of the master site and connect visitors to their local branch.
This is a small snapshot of a multi location SEO campaign. No two campaigns will ever be the same and, whilst a variety of methods are always used, each campaign will prioritise budget into different areas depending on their opportunities for growth. SEO is complicated, but we want you to be as clear as possible about what we're doing, so if you fancy a friendly and jargon-free chat with one of team get in touch today and discover how we can help your businesses grow.
FAQs
Answers to your frequently asked questions about our multi location local SEO services.
As part of your local SEO plan, we carry out a thorough analysis of your online competitors within your local market. Depending on the scale and competition for your market sector; the analysis will include:
A comprehensive SEO analysis of local competitors; what they rank best for
Summary of competition
Clear advice on search optimisation improvements that strengthen your performance vs the competition
Recommendations for general online marketing strategy; weaknesses, threats, opportunities
Google Places should really be regarded as a BETA program – full of bugs – it is hardly supported considering the millions of users across the globe, with just a handful of American technical workers managing hundreds of thousands of complaints and problems.
Google do not care if your business is damaged by their ineptitude or the errors within their system.
In many cases, businesses who have relied on their website generating business from Maps and suffer a Maps bug which removes them from appearing, will be forced into buying Pay per click ads to keep their business afloat.
So in general, try to keep in mind these limitations when you have problems with your Google Places listing.
Read more about Google Places bugs that have caused major damage to small business owners http://marketing-blog.catalystemarketing.com/google-places-bug-listings-disappear.html
How fast will problems be corrected?
I generally use the 3,3,3 rule when assessing google issues that they have acknowledged as not right… Sometimes it gets fixed in 3 days as it was a minor issue. If not 3 days then 3 weeks as it takes time for the index to update and catch the changes If not 3 weeks then 3 months as it is is a serious problem and takes significant coding, debugging and reindexing.Google does not function on business time as we know it. Their fixes, annoying as they are, arrive due to the time frames dictated by internal demands and update schedules.After watching Google Places for 6 years I have come to the conclusion that most problems get fixed sooner or later… that is not very comforting to you as you are experiencing the loss caused by one of their bugs.
Take a look at some of the Places support forums:
This is a tough one, as they all offer different priced packages, for different locations of the UK and also for different business categories. And as you may already know – they have some very persistent salespeople to say the least!Offers really need to be considered on an individual basis – so please do get in touch with information of your package for a second opinion on anything.As a general rule though, these directories base their high prices on 2 benefits:
Having a listing on their site (especially useful to those companies who dont own a website) and also being featured near the top of categories within the directory
But more importantly – the high prices are based on the SEO benefits that these directory listings (used to) pass on to your business website – via the flow of authority through the link.
For almost a decade now it has been possible to buy these upgaded listings, from a few directories and as a result of the link authority passed over, your website could rank very high in the search results for your region. In effect, those companies who had the money to upgrade all their listings, would dominate the results in an unnatural way that does not offer Google's users with the highest quality companies, but instead those companies who were prepared to pay.Fast-forward to 2012 and the search engine algorithms have advanced, to be able to minimise the unnatural influence of directory links on the search results. The directory companies know this, and are making their last ditch efforts to get some money out of customers not up-to-date with the increasing rate of change within the Microsoft and Google search quality algorithms.
So, if the SEO benefit from all these directories is fairly similar –
What are the viewing numbers of these websites – and which would be the best to advertise on?
Of course – getting a free listing on all of them is a great starting point – and this service is provided for you if you are paying for a monthly marketing plan. But as they all charge to upgrade -the difficult choice is prioritising which to invest in…In general my recommendations are as follows:
Free listing on all of them should be your #1 investment (covered in monthly marketing plans)
Upgrade Yell -depending on quoted price (from £200 p/year)
Upgrade Qype – depending on quoted price (from £100 p/year)
Upgrade Hotfrog– depending on quoted price (from £100 p/year)
Upgrade Yahoo(city-visitor) – depending on quoted price (from £100 p/year)
Upgrade Thomson Local – depending on quoted price
Upgrade Touchlocal – depending on quoted price
However – if you are operating in a B2B market – you need to consider B2B only directories as another selection of options. Every niche will have certain directories that need to be pursued- so pelase get in touch for more information and advice based on experiences from previous clients.
Here's the data the directory companies probably dont want you to know – it's a year old but gives a good idea of the scale of readership and also rate of change.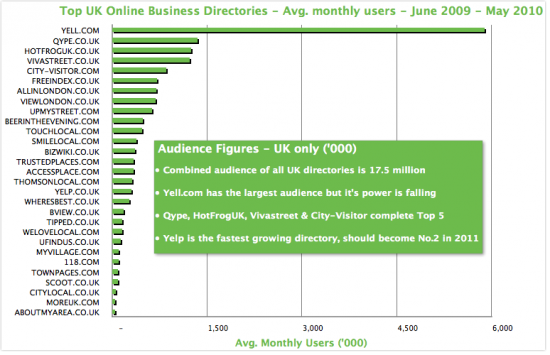 Based on the following rates of change below – you can get an idea that even Yelp, would not likely be able to compete with Yell, Qype, hotfrog or Vivastreet.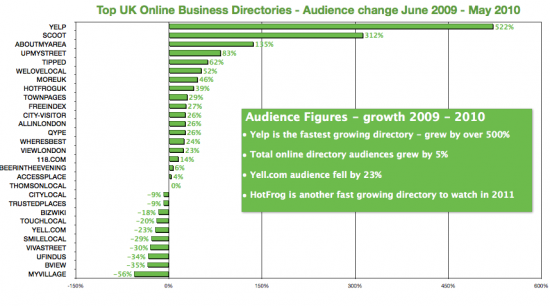 There are a lot of different components involved in SEO. Local SEO generally involves a greater focus on accurate local listings in search engines, analysing the strengths and weakness of local competition and optimising your web presence for best performance against them. National strategies can involve a greater amount of content and specifically targeting different areas of your chosen market. These are broad descriptions and can change depending on the project. If you're unsure which type of SEO you need, ask yourself if your customers primarily come from your local area or further afield.
On page SEO refers to optimisation of the content and coding of individual website pages to maximise the effects of all other search engine marketing efforts. On-page SEO can involve the following techniques:
Adding metadata based on extensive keyword research
Editing existing copy for optimal keyword density based on our recommended keywords
Adding copy to enhance search engine relevance scoring factors
Editing copy to improve customer conversion rates
URL re-writing for SEO benefits including 301 redirects so you can keep getting the benefit and Page Rank flow from your old links
Modification of navigation system for more indexable content by the search engine bots
Improving landing page quality scores for PPC advertising campaigns
Off page SEO involves generating interest elsewhere on the web to attract traffic back to your website. Creating links that point back to your home page and product/service pages (we call this deep linking), serves the obvious purpose of increasing visitors onto your website. More importantly though, links between sites serve as a voting system and key part of Google's Page Rank algorithm, a crucial ranking factor for search engine results performance.
Link-building strategies aim to attract others on the internet to link back to your site
Links from less popular or reputable sites are of little use to SEO but can boost traffic
Links from reputable websites will boost your website's performance
You will have no doubt received spam from companies offering link building services. 100 links from irrelevant, spammy or generally low quality sites will not be able to offer the same performance improvement as just 1 link from a high quality, reputable site. Our link building campaigns always obtain links that are of best-value, either for traffic generation or PageRank/SEO performance influence.
Several years ago, your website would have got a lot of benefits and climbed higher in the results on Google. But nowadays since they have been abused by spammers; Free listing sites rarely offer any benefits at all, some can even be harmful if you register to lots of them in a short period of time. We maintain a list of around 100 websites that are the best in the world and offer some value to your website from joining, and as part of your monthly internet marketing plan, we will submit your business to these websites on your behalf and maintain the list of the sites for your reference if required.
Keep in mind that Google can detect the quality of links and how quickly there are new links to your website.
If there is a sudden surge of very low quality links, it can look very suspicious. And can possibly impede other work being done to benefit your website
In general i would say best to leave the link building to us!
If you are often finding sites that you think may be of benefit to join, please build a list and send this over, we will scan the sites and tell you if they would be of benefit to join.
Regardless of budget, we normally advise clients it will be between two and three months before they begin to feel the benefit of our SEO work. The work we carry out results in long-lasting SEO benefits, the initial time taken to feel the results reflects the time it takes for Google to recognise and respond to the optimisations we make. Some factors which affect how long it can take to achieve noticeable results include the state of the competition in your industry, the competition around the specific search terms you'd like to rank for and the area you wish to target, for example a town, a city or a country.
We operate fully 'white hat' SEO strategies, meaning all work is carried out in accordance with Google's guidelines.Whilst some providers may promise quick fixes, the penalties for going against Google's guidelines are severe and can see a website completely removed from search listings.
Important points
Some aspects of your brand's web presence such as social media mentions and shares are picked up almost immediately.
Other aspects of your SEO campaign such as links and mentions on websites, are not noticed by the bots, until the next time they visit the page has a link or mention of your business. So there is not much we can do to speed up the discovery of mentions and links on other people's websites.
Also, if you are in a very competitive market, but are only paying for a basic plan, it can take months before your campaign builds enough momentum to start climbing rankings.
About our SEO plans
All plans contain an equal feature-set, the only difference is the amount of time our team work each month on your campaign
Our SEO strategy is based on a "recipe" of activities that we break down between to our team with various talents, to make the most effective use of your budget.
The more you spend each month, the more hours our team complete and the faster your rankings improve.
Our regular publishing builds a growing audience online and a search engine ranking potential within your website, that enables your own, more important news to reach a larger audience at the moment you need to broadcast it. The same applies for the social media aspects of the service
When can I expect to see results and what will those results be?
SEO traction usually begins in month 2, as the momentum builds 1st page rankings are typically seen within 6 months, depending on the competitive environment online in your niche.
Above the fold (positions 1-5) rankings for high competition keywords are usually seen towards the 6month – 1 year mark.
What kind of benchmarks do we set for the campaign so we can measure the progress of the program?
Keyword rankings and traffic will be tracked daily and reported on once a month
All the activity for link building is tracked and reports are available on request
Every single task for our team is created in our PM software and tracked
We will send you access to our interactive online analytics and rankings software.
We have Online marketing KPI dashboards available on request that can be shown in your sales office on a big screen, to monitor any combination of analytics, conversion or Social KPIs in real-time prices, from £10 per month.
What is the value I can expect from your service?
Your website can expect significant increase in converting traffic. Average Alloy SEO customers see a 70% increase within the first year of being a client.
Our average client receives 1,721% return on investment within 1 year of starting an SEO campaign with us.
We have a 98% client retention rate which speaks to the satisfaction and ROI our client's experiences with us.
How to appear in Search Engine Results Pages (SERPS)
Search results from Google and others are compiled by computer algorithms designed to provide the user with relevant and useful results based on the 'search terms', or keywords, they have entered. What is referred to as the 'organic' search results appear as lines of text down the left hand side of the results page. In search engine marketing, creativity and adaptability is used to help client's websites become known, trusted and prominent in the 'organic' search results. This process is known as Search Engine Optimisation, or SEO.
So – How do you appear higher in the search results?
Search engine optimisation is the process of improving a website and the presence of a brand on the internet in order to increase visibility in the organic search engine results. Because search engines do not accept payment for listing in the organic search results this involves optimising a website for hundreds of factors (as Matt Cutts mentions in the video) to improve the website's compatibility, whilst creating a quality website that others will want to visit and link-to.
The official word from Google themselves
Google's former spokesman for the quality of Google search results Matt Cutts explains in the video below how Google finds website pages through links, indexes them (for storage) and then ranks the pages to appear in search results for particular search keywords entered by the user:
Search Engine Optimisation is a complex process involving improvements to hundreds of aspects of your website and the presence of your business online.
Search engines like Google collect huge amounts of data on the websites they display in the results of a search. They use this data and combine it with complicated calculations to work out which websites to show and where to show them in the results of a search. SEO involves learning about what the search engines are looking for when they collect data on a website and how they process this data, then using this knowledge to optimise the web presence of a business in order appear higher in search rankings. The result is that the business is seen by more customers. Several studies have shown that the vast majority of searchers do not look beyond the results at the top of the first page. The elements of an SEO plan are varied but typically include a combination of link building, content creation and technical audits of a client's website and business information.
Every SEO agency will have their own 'recipes' used to distribute their client's budgets across all these hundreds of different areas. You can get an idea of our SEO recipe below to give you an idea of how we distribute your monthly budgets.
The Bad
Some SEO companies will spend all of your budget on building "dubious" links from unrelated (or very loosely related) websites across the world, often from Asian countries. This may give your website a boost for just a few weeks or months, but soon after the Google algorithm will detect the deception and erase the value that those links were passing to your website, causing your website to drop out of the organic search results. If enough of these deceptive techniques are detected, the Google algorithm will send an alert triggering a human Google employee to undertake a "manual website review", which can result in a complete ban of your website domain from the Google search results.
The Good
Our approach, on the other hand, is to build a genuine online presence for your business through a great, regularly updated website, sustained social media presence, finding great sites across the world related to your business and gaining links from them to your website. We might adjust our recipe in the first few months of your SEO campaign, in order to compensate for specific weaknesses in your online presence. But after a few months our work usually settles down into the standard campaign routine, with your budget distributed as shown in the pie charts below.
Online reviews are a great way of boosting your local SEO. Reviews on Google Places profiles, Bing local business listings and some key online directories that have review features can be collected and aggregated from across the web. Google collects this data then compiles it back on the Places profile page. These reviews, together with the signals that search engines gain from scanning page content, suggest whether a local business is relevant and should be offered in search results.
Whether you need local or national SEO depends on the type of business you have. Local SEO services are ideal for getting more customers into a venue, for example a bar or restaurant, or for being found by customers when providing a service in a single town or city, for example for a sole trader or a repair person.
National SEO is for companies who provide country-wide or international services and sales. These require a different approach since they need to reach a much wider customer base. Typically if your business sells goods of any sort online, a national SEO plan is the way to go.