Food & drink manufacturer website design service
Build an engaging, performance optimised website for your food or drinks company to convert more visitors, showcase your products & generate more sales.
Read More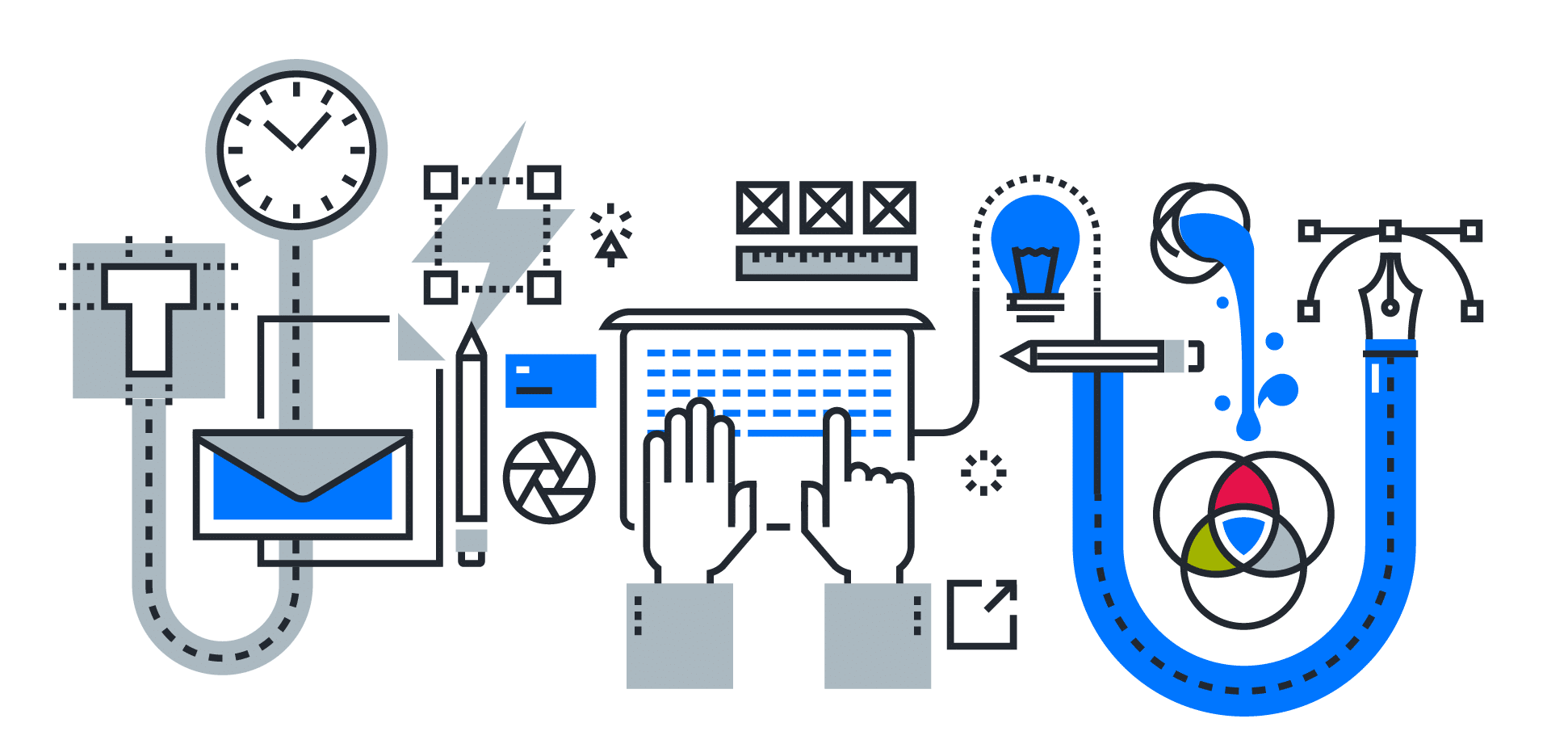 Why work with us?
If you're a food or drink manufacturer you probably know a thing or two about how important is it to have a strong website. Unfortunately, finding an agency who can build a stable, reliable site that looks stunning and performs well across all platforms can be a challenge, not to mention a chore. Knowing who to trust with your website design budget is tough!
With a history of success with independent and national clients within the food and drink manufacturing world and beyond, we've accumulated years and years of knowledge about what makes a website that really works for you and your customers. We've built successful eCommerce platforms that offer simple sale solutions for retailers and manufacturers selling both directly to consumers and to other businesses.
Since we also offer other aspects of digital marketing, SEO, graphic design, social media management and more, our website designs are built upon 360 degree knowledge of digital marketing, optimised for best search engine performance, social media integration, conversion rate optimisation and much more, as standard. Our cutting edge CMS solutions make it simple for you to maintain and update you new website, keeping administration costs as low as possible. Plus, if you ever need any training or want new features adding as your food and drink business grows, we're never more than a phone call away.
How do we deliver results?
First we need to get to know you. What is your food or drink manufacturing business all about, what are your core services and what do you want to achieve with your new website? You may have a very a clear idea of where you'd like to take your digital presence, or you may have very little experience with websites and find the whole thing a bit confusing. Whatever your background, we'll work with you to get the best results, whether that means working to a brief or coming up with creative stuff ourselves – you're free to have the level of involvement you choose.
Our crisp, modern designs are created using cutting-edge website design software. We can build any size website your business needs, whether that's individual product pages for the drinks or edibles you make, or a simple digital storefront that directs customers to your brick and mortar outlets or distributors. We deliver fully responsive designs, essential in the age of mobile-first indexing, when over 60% of search traffic comes from mobiles. In layman's terms that means your new website will looks its best whether viewed from mobile, tablet, laptop, set top box, desktop – or anything else you can think of, our future-proof designs are built today, for the customer of tomorrow.
We can, of course, integrate a whole range of customer friendly features that keep visitors to your site happy and provide great functionality. Features such as customer enquiry forms, mailing list subscriptions, payment gateways, telephone links, social media feeds, integrated maps are no problem. Just let us know what you'd like to achieve and we'll deliver a website that goes above and beyond, we simply love what we do.
Summary
The websites we build are built to last. Our responsive designs won't date and degrade in six months time, they'll continue to perform and provide the strongest foundation for your growing food or drink brand. Your branding will be crisp and clear, a united front in the digital domain that reinforces your company's ideals and ensures you're remembered by new and existing customers. Our custom CMS platforms make it easy to keep your new website updated with your latest products, recipe ideas, news about what you've been up to, portfolio pieces or anything else you can think of. Google just loves websites that regularly serve up new content for their customers and we make it as simple as possible for you to do that… and hey, if you need a hand our experienced team of content creators are happy to provide ongoing content solutions to fuel steady growth and boost your SEO performance too.
If you're considering a new website for your food or drinks company we'd love to have a no obligation chat with you about how we can help. We're passionate about what we do and truly believe that our enthusiasm translates into our work. We want you to be as proud of our work as we are and go above and beyond to deliver the most outstanding results regardless of budget. Reach out today, let us show you what we can do.
Website design packages
Let us know via our enquiry form if you'd like a custom plan putting together.
HTML5 website design to match your brand

4 pages designed using your text

Enquiry form with analytics goal tracking

Mobile and tablet friendly design

Social media sharing buttons on all pages

Hosting, daily backups and security for £25 per month
Starter plus: 5 extra service pages designed

Testimonials manager system

FAQs manager to show common questions

Projects manager to post new galleries

Hosting, daily backups and security for £25 per month
eCommerce
Website package
Standard plus: E-commerce shop platform

Integrate with a range of payment gateways

Staff display manager to show your team

4 hours training & support

Hosting, daily backups and security for £25 per month
Optional upgrades
Top features in our webdesign packages
Wordpress Maintenance Services
All our sites are built on CMS platforms for easy editing and with logins for your staff, this means extra care is needed with keeping things up to date and running smoothly. We offer fully managed WordPress maintenance services to help keep your website in top condition.
We can also support our clients with domain name registration and domain research to help you get the best website address. Then we can host your website and emails with the help of our UK based, fully carbon neutral hosting partner. Prices start at £20 /month.
FAQs
Answers to your frequently asked questions about our food & drink manufacturer web design services.
Definitely, this is vital and is a fundamental part of all of our designs.
Edits to the coding of your websiteEven though most websites are written in a common programming language (html) – different designers use their own variations of the language, which slows down the speed that edits can be made by us.
The text and images you may have utilised on your website are very useful and can continue to be used
However, the (html) coding that your previous web-designers may have used to get your text and images to display may not be so great and in some cases, could benefit from an overhaul
If your website is a basic, mainly static html website, then it is possible that small edits can be made with ease and should not cost much.
However, if your website is very large or contains animations, galleries, interactive elements or quote forms, then it's likely that edits will cost much less if the same work was being done on an Alloy website.
Starting a new marketing campaign
If you are launching a new online marketing campaign including social media, SEO etc. and your website requires major edits and additions such as news, information, frequently asked questions etc. – then working on 3rd party code will cost much more than if the same work was being done on an Alloy Website.
In general, if you are considering investing more than £300 in online marketing for your business – then it's likely that your 3rd party website will become the limiting factor in our efforts
If your 3rd party website requires technical edits/corrections, you should consider if buying an Alloy website would resolve these issues at a lower cost than the edits on 3rd party code.
By spending from just £299 on an Alloy designed website – you not only get a solid foundation to build upon, but also your further marketing investments are amplified by the built-in features of Alloy websites such as:
Blog publishing platform
RSS feed output for syndication
Easy code editing
Easy edits by the customer via the CMS admin platform
Almost all website add-ons are from £40 and can be bolted-on with ease (testimonials, advanced quotes, link directory etc.) allowing your website to expand with your business.
Conclusions:
Keen to stick with your website created by a 3rd party?That's fine we are happy to work with you however possible, but 90% certain it will cost you more(in the long-run).
Considering a new website built by Alloy but worried about the costs?from just £299 you can get your old website data moved over onto an AlloyCMS platform, ready for you to get publishing blog posts and to reap the financial rewards of having a website that ranks better on the search engines, and brings you more business.
Please get in touch if you have any questions.
Whats the difference?
Edits or additions to Static HTML websites are done through a code editor that requires you to update every file on the website upon each edit.
CMS websites allow you to create single files to control the appearance of pages, then dynamically inject content into these pages to rapidly create multiple different pages with an identical layout.
As an example, if you wanted to add a portfolio to your website, of say 6 projects including a projects summary page + 6 individual project pages.
To code in static HTML this would cost approx 7 x £40 per page = £280
To code in a CMS website costs approx £100 to create the templates then add 6x £10per page to create the portfolio items = £160
Scenario 1: If you have had a website for several years and are 'due' for a brand new website, then fantastic!
Our statistics show your new completely new redesigned site will help to convert around 10-25% more visitors into enquiries than your old website
Building from your text and any photos on your old site, your new one can be put together faster than a website for a new company
Any further online marketing investments in your Alloy website, build upon the strongest of foundations, to create an impressive tool for converting customers and also to build a valuable online presence for your business on the major search engines (Google, Bing, Ask, Yahoo).
Scenario 2: Possibly you have a more recently-built website, that does not perform well in terms of converting customers, or attracting visitors from search engines. It's the same in every trade, and as you may expect – all webdesigners/ SEO / Marketing Consultants are not made equal, so if you have any doubts your current providers are not giving your business the best possible chance online – (whilst online marketing channels offer small businesses a phenomenal potential), then it's up to you to act for the benefit of your business.
In some cases it's possible work with your current website to make improvements and additions
But often edits to a 3rd party website will incur extra costs, and if you intend to make a major push for increasing online visibility and lead generation, it often becomes far more cost efficient to move over to an Alloy CMS website which from just £250, offer the strongest possible website platform to build upon.
What's so great about Alloy websites?
Edits to your website are cheaper than you may be used to
Alloy sites can be upgraded to have a built-in blog publishing platform – regularly publishing news and testimonials, tips and advice, helps to keep your website and online presence 'fresh' and topical to benefit from even higher rankings and more leads generated from search engines.
Your website is linked up with Analytics visitor tracking software – goals are created & conversions are tracked from day1
Your website is coded to perform in harmony with the search engine algorithms, who sweep through on a regular basis to judge your site and determine it's ranking potential on the search engine results pages (SERPS)
You get an premium quality and high reliability web+email hosting service
So hopefully, after weighing up the pros and cons, you will come to the conclusion that an Alloy website offers both your business a visually appealing and high performing interactive brochure, but also acts as a highly tuned 'engine' that can power your online marketing activities, moving forward.[hr]
So, what's involved in the move?
[hr]
1. Your Domain Name
Your domain name (www.mycompanydomainname.co.uk) is the most valuable online asset to your business.
Before you contact your current webdesigners, you need to find out if you are the legal registrant of the domain.
Enter your web address here to see who is the registrant of your domain http://whois.domaintools.com/
If you have your domain printed on stationery, or even your van, it would (of course) cause problems if it was disconnected from your website by a disgruntled webdesigner or company.
If you are not the registrant of your domain then you need to be very careful asking to gain legal ownership (of what you thought was your property after paying-for, but possibly isn't)
Even if you are listed as the domain registrant, you need be cautious asking to gain control of the domain, and move your business elsewhere, as there are several things 3rd parties can do to slow down or complicate the move of your business away from them.
Once you are ready to make the switch, we can either gain control of your domain and point it to your new Alloy hosting + email account, or we may have to move your domain away from your previous conmapny, to a new domain registrar of your choice. This process is usually free, but requires a renewal of your domain for a year or 2.
All the details are completely managed for a seamless move with minimum hassle
[hr]
2. Your website
Your website text and images can be grabbed from your old website before it is taken down, and used in your new design. Your new website can be prepared, ready to go, so that once you give your old company notice, you can have a seamless transfer over to your new Alloy website and premium hosting account.Features of Hosting from Alloy Marketing
Premium quality UK based hosting
Servers are based at the premium Blue Square data centres in the UK
Expected uptime is an outstanding 99.95% uptime
To give you an idea, there hasn't been 1 single hosting / uptime complaint from customers in 2012, and it's mid-April!
[hr]
3. Your emails
When you enquire about your specific requirements, we can find out how you are currently receiving and sending emails. The identical email accounts and redirects will be recreated on your new Alloy hosting. If you are just using 1or 2 accounts this service is free.If you have more than 2email accounts, there is a nominal admin fee to cover the small costs of setting up the extra accounts on your new hosting and providing the configuration details you need to change if any.
If you are using hotmail, gmail, yahoomail or another free service, and you receive emails forwarded from your website, then you will not need to change anything at all and your transfer will be seamless.
If you are using your business email address to send/receive via POP or IMAP, using a desktop email browser such as Microsoft Outlook, Mozilla Thunderbird, Windows Live Mail Desktop Version etc. We can setup the same accounts on your new hosting, but with new passwords, so you will just need to open the options panel for your email software and enter your new email server passwords and details. This is a very easy process that we can provide clear illustrated instructions so that you can complete at your end within about 10 minutes.
[hr]
4. Timescales
Once your new website is designed and ready to go, and you are ready to make the move, we initiate the process by gaining control of your domain name and then pointing over to the new Alloy webhosting. Unlike many conventional agencies, we have the flexibility to be able to initiate your transfer at the weekend, so if there is a few hours when your website is not available, it's at the weekend.
If you have control of your domain, the transfer time will be between 2-24 hours.
If you don't have control of your domain, and we need to transfer it to a new domain registrar, so that we can gain control of it and point it to Alloy webhosting, then the process can take between 4 – 48hours.
The design process
Here is a summary of our design process to help you keep the costs of your design as low as possible:
Stage 1: Research and feedback – We will send a questionnaire to collect your ideas and see which competitors have websites you like.
Stage 2: Mockups / concept designs – Your suggestions and ideas will be transformed into a visual mockup image of your website home page, we usually provide an intial mockup and refine this towards a finished design. Changes to the design at this stage are the cheapest, and it's best to get something you are 90% happy with in the mockup stage, especially in terms of the general layout of the pages, and the colour schemes.
Stage 3: Concept converted into a working website, for you to try out and test, we will make the final tweaks and add that "polish" to visual design at this point. Changing a few photos or text at this stage is usually fine and within the bounds of your website quoted budget, however major changes to the design such as change of colour schemes, major changes to the layout of the pages may incur additional costs, but we will always notify you before proceeding with work that is beyond the scope of the original quote.
In summary, try to get all your ideas prepared and given to us at stage 1, and making major changes to the design will always be cheaper during stage 2, rather than stage 3.
Additional edits to your design
We will inform you of any work that is out of the scope of the original quote before proceeding with any work.

Additional edits beyond the scope of the original quote will be quoted for you on an ad-hoc basis, usually at the standard rate of £30 per hour with 1/2 hour minimum.
Ownership and copyright
On receipt of your final payment of the website design balance, you will have full ownership of the website design and text, and of course any images provided by you. If we have provided photos for you in the design, we retain the rights to these photos. If you have bought photos yourself for the design, or we have bought photos on your behalf, you will have ownership on receipt of the design balance.
If we have registered a domain name on your behalf, or you have transferred your domain to our management, then you will retain full ownership of the domain as long as you are up to date with your domain name renewal payments which are paid yearly and usually cost around £7 per year for .co.uk domains and £12 per year for .com domain names. Failure to pay your domain name renewal fees within 30 days will result in your domain either expiring, so that neither us or you can control it anymore and it will return to the market for sale in 45 days. In some situations where the renewal fee is not paid within 30 days, we may choose to pay your renewal fee which would give us legal ownership of the domain name.
If you registered your domain or in situations where we were managing your domain name and you requested for us to transfer the control of the domain over to you: You have the responsibility to renew, pay for and manage your domain name, and we can not accept responsibility if your domain is not renewed in time and goes into expiry mode.
Webdesign Add-ons
Many extras are listed to give you an idea of prices, some are not, please ask if you can't find the add on you're looking for.
Animation Add-ons
Homepage slider – from £30
Photo Galleries – from £30
Testimonials slider – from £30
Latest news slider – from £30
Polls / Surveys – from £30
Social media Add-ons
Twitter feed – from £POA
Facebook feed – from £POA
Social sharing buttons – from £POA
Social Follow buttons – from £POA
Website feed into Facebook Page – from £POA
Share to reveal content – from £POA
Enquiry form Add-ons
Extra fields in standard forms – from £20
Advanced enquiry forms – from £30
Survey forms – from £30
Quotation forms – from £30
Fact finder forms – from £POA
Enquiry / quote calculators – from £POA
CMS Add-ons
Blogging / Article publishing platform – from £POA
Article submission – from £POA
Recip. Link directory platform – from £POA
Email marketing integration – from £POA
CRM integration – from £POA
Subscription Add-ons
Email newsletter subscription setup – from £20
RSS Feed subscription setup – from £20
Don't delete it! Speak to us first or you might lose the SEO benefits of having had a website at all, even if it might not be a great one there will be some value in it!
We're here for you! Our copywriters and content creators will be in a great place to devise a content plan once they've finished learning about your business and building elements of your new site. Give us a call to chat about what you need.
We understand that some customers may have already invested in a website and simply want to add functionality to it. We're always happy to help with this. Sometimes existing sites have been built on frameworks which don't support certain features and upgrades. In these cases we'll have a chat with you and take a look at what you've currently got in order to work out the most economical way to get the features you're looking for.
As part of our competitor research we look at the design styles being used on other websites in your industry. We also chat with you about the look and feel you'd like for your site. If there are particular websites you like the look of then do share them with us and let us know what you like. If there's a site you'd like as a template we're always happy to take design cues from it. Rather than copy it, we'll make you something ever better.
Weekly, or bi-weekly updates are the best way to demonstrate to Google that your business is active and deserving of ranking. If you can't think of ways to continually update your website with new content we can help you come up with a strategy.
For 30 days after the launch of your new website, you can request edits (within reason) free of charge.
After this stage, or if you have a website designed by a 3rd party – website updates are charged at £30 per hour with a 1 hour minimum.
Most edits such as changing phone numbers or addresses only takes a few minutes, so it's worth preparing some other text you may wish to add or edit to get the maximum value for money for your 1 hour.
Adding full pages to your website is also charged by the hour, but in general, they take 1 hour to create and then around 20 minutes of edits – resulting in an average charge of £40 per page.
Please ask for a free no obligation quote before any work starts so you know exactly what you are getting.
See here for the webdesign package price list
The standard turnaround for a website is 4 weeks from the date we receive all the content and information needed to build it. Depending on the complexity of the site it can sometimes be quicker than this, so if you need something completing urgently do let us know and we'll do all we can to help. If you'd like a holding page or something similar to act as placeholder whilst your site is being worked on, just ask.
Small businesses are often targeted by cyber criminals because historically they have paid less attention to the security and maintenance of their websites. To combat this and mitigate the threat of attack we offer a number of services to make your site as secure as possible. Our security-focussed options include 3 tiers of email and website hosting, SSL upgrades and regular malware and virus scanning.
Copyrights
First, you guarantee that all elements of text, images or other artwork you provide are either owned by your good selves, or that you've got permission to use them. Then, when your final payment has cleared, copyright will be automatically assigned as follows:
You will own the visual elements that we create for this project. We'll give you source files and finished files and you should keep them somewhere safe as we're not required to keep a copy. You own all elements of text, images and data you provided, unless someone else owns them.
We will own the unique combination of these elements that constitutes a complete design and we'll license that you, exclusively and in perpetuity for this single project only, unless we agree otherwise. We can provide a separate estimate for that.
We love to show off our work and share what we've learned with other people, so we reserve the right, with your permission, to display and link to your project as part of our portfolio and to write about it on websites, in magazine articles and in books.
There are great SEO benefits to regularly updating your website with new content, so we always encourage our customers to do so. We use cutting edge content management systems on the sites we build to allow for client's and their staff to easily add updates once their websites are complete. If you're not confident in doing this it's something we're always happy to help with. We can also help you put together a content plan and assist with content creation too if needed.