We are a data driven agency, which means we seek out as much data as possible to get your campaigns the best return on investment.
For our local SEO clients; retailers, cafes, restaurants, plumbers, electricians, service providers and more, we have a unique reporting dashboard which pulls together data from 3rd party sources and displays it in an easy to access format, great for keeping tabs on the progress of your managed local SEO campaign.
Our reporting dashboard gives you access to track a variety of different metrics that can be used to understand the progress of your campaign. Google analytics, citation building progress and ranking improvements are all visible, but don't worry if this is all new to you; our friendly team are always ready to talk you through the data. We're happy when you're happy, so we want to make sure you understand what you're looking at and how it's helping your business grow.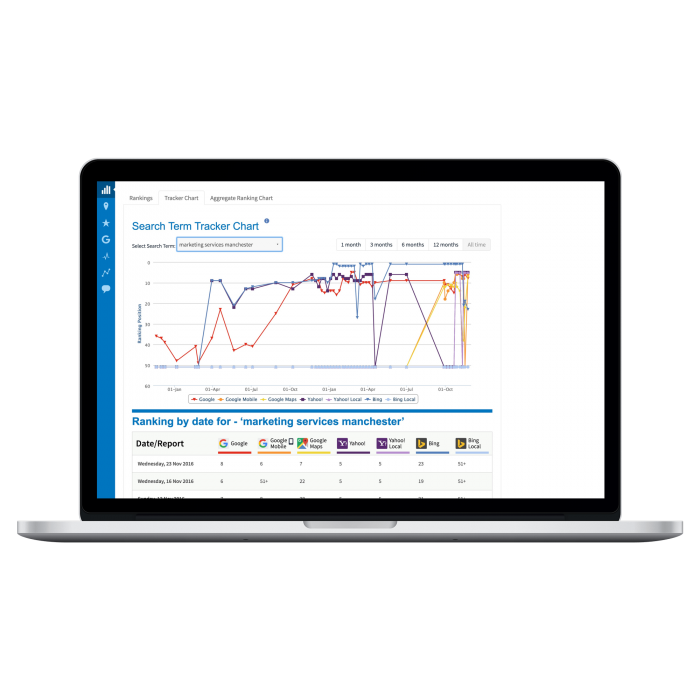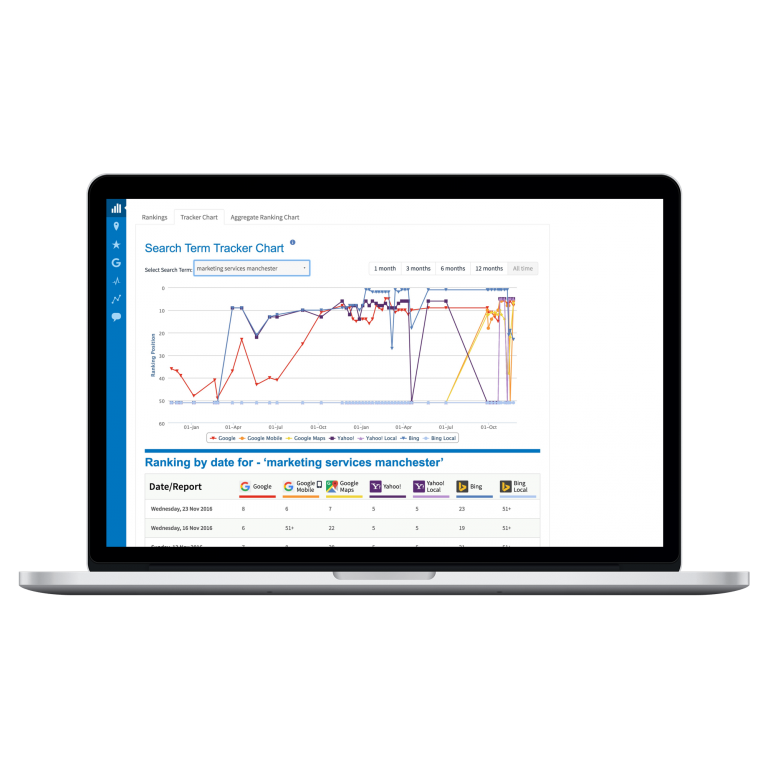 Local SEO rankings reports
Our rankings reports for local campaigns run weekly and report on your website's rankings as well as the performance of your Google maps listing across Google, Google maps, Bing, Bing maps, Yahoo and Yahoo maps.
As you may know, Google displays different results depending on the specific location of the user making the search. Someone looking for a bike shop in Camden won't be interested in results from Leicester. For business owners however, this makes it near impossible to get a clear picture of how visible you are to your local customers. Also remember, this is before we factor in the effect of your own cookies and search history; so even if you are in the area your business serves, if you search yourself you're still highly unlikely to get a realistic picture. With our rankings reports you can simulate a search from any postcode, town or city to get a fuller picture of how you rank in that area. We monitor your competition in those areas and hone our strategy to make a difference for you where it matters most.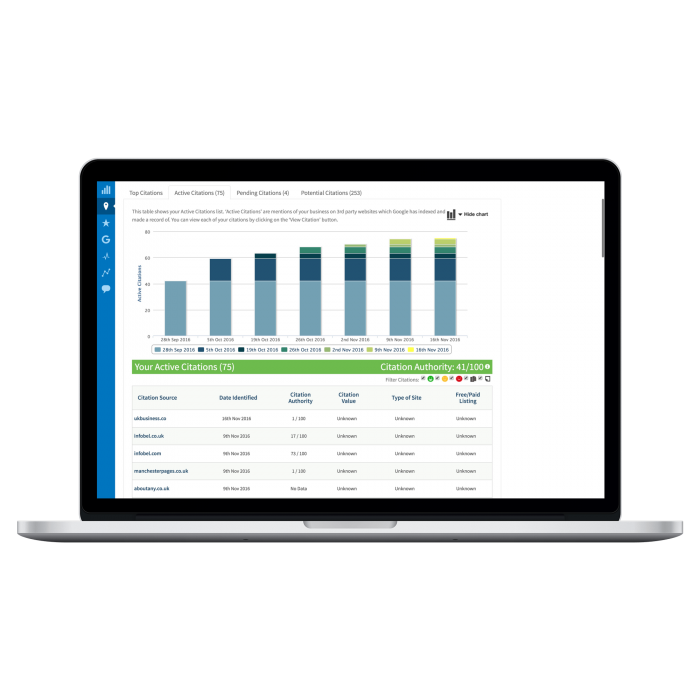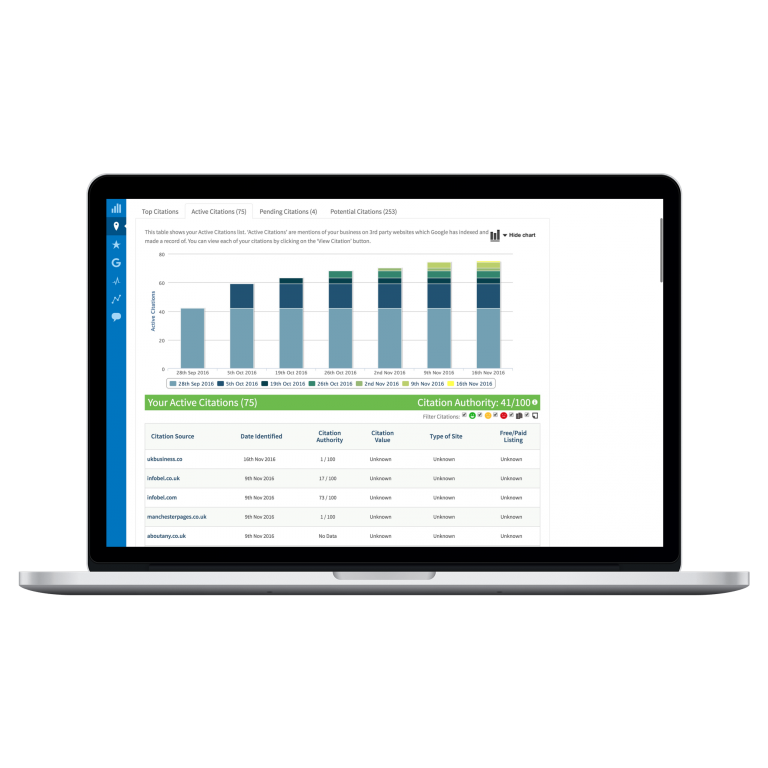 Citation building campaign reports
Citation building is a key part of our local SEO campaigns. Citations are basically mentions of, and references to, your business appearing on other websites across the internet. Search engines view each of these references as a vote of confidence in your business, so the more we build the more likely your business is to be displayed to local searchers amongst the top results. Of course, for this to be effective the mentions must contain accurate information, or else search engines cannot be sure that the business being referenced is actually yours. A little specialist knowledge is also key, since it's far more effective to build citations across websites considered authoritative in your field. For example, creating a citation for a fishing shop in a directory of financial services business will do nothing for your rankings. This is a fairly obvious example, but after providing local SEO services for many years we've built up a considerable knowledge of where best to allocate SEO budgets for maximum impact.
How does our software help us increase our effectiveness? Our software crawls the web to find mentions of your business and opportunities to build high impact new ones. It locates and identifies inconsistencies in the business address and contact details of your listings across the internet and alerts us to them so we can take action to correct them. It identifies niche forums of potential interest to your customers and other similar sites so we can discover opportunities and act on them quickly. As your campaign progresses we will build hundreds and even thousands of citations, all of which will be plotted on a graph and presented to you.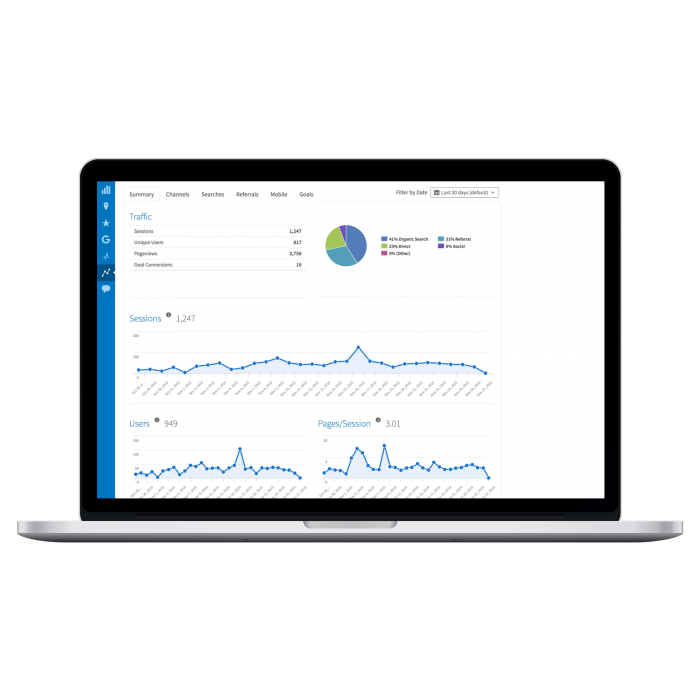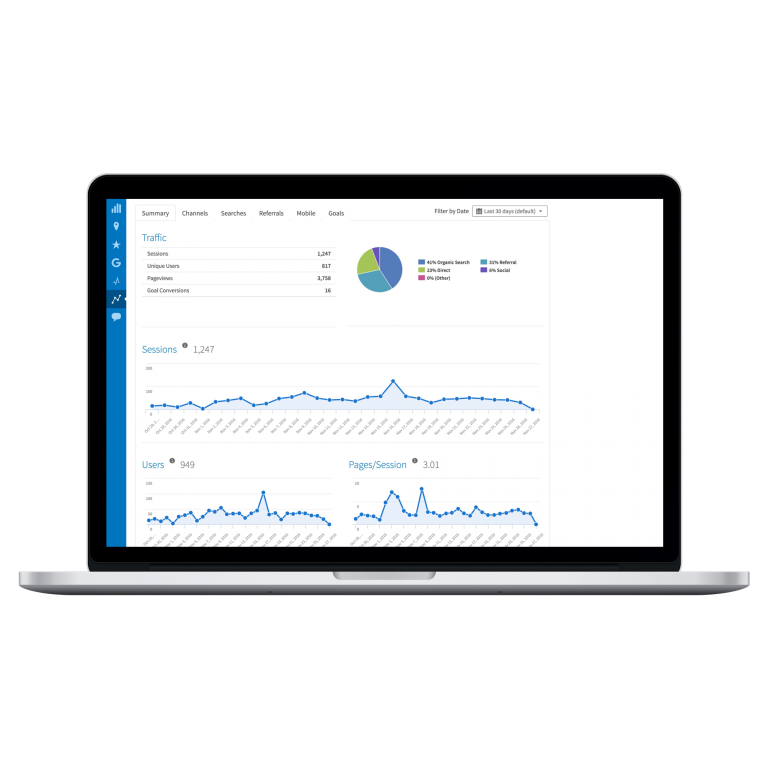 Google analytics simplified reports
Standard Google analytics reports are an invaluable source of information when it comes to SEO, but if you're not especially technically minded they can be difficult to navigate and understand. Our reports simplify their data, making it more accessible to you and more practical in the guidance they offer to your marketing campaigns. By learning as much as possible about visitors to your site; which pages they go and how long they spend there, our developers can devise optimisations that massively improve the user experience of the site. This creates a range of benefits, better user experience improves search engine performance but also improves bounce and conversion rates.
Whilst our reports make Google analytics a simpler process for you, they don't compromise on quality or detail. Analytics data comes direct from your website with simplified charts for visitors, channels, social interactions, goals and more. It's all viewable from right within your local SEO dashboard. Everything in one place, transparent, accurate and invaluable for crafting a local SEO campaign that builds stable, reliable long term growth for your business.
If you're interested in a local SEO campaign or have questions or specific requests about our reporting data don't hesitate to have a chat with our friendly team. We'd be happy to help!
Frequently asked questions