Cafes and restaurants are social spaces by nature, which means it's all the more important for them to have a presence on social media. As the majority of social media companies transition from primarily social platforms to advertising giants, these businesses would do well to spend a bit of time thinking about how this transition affects their marketing.
It now seems unavoidable that in future businesses will receive less and traction from unpaid posts on social media, which means it's all the more important to make sure that when you're using social media to market your cafe or restaurant, that you get it right. We've worked with cafes and restaurants up and down the country, helping them with their social media and wider marketing, here are a few tips we've picked up along the way to help get these clients get the most out of their social presence.
1 – Stay connected to your audience
Social media is one of the easiest ways for customers and interested parties to get in touch with cafes and restaurants. If you're not around to respond quickly, you risk losing them to a more responsive business. Studies have show that users expect responses, with over half of them expecting a response in under an hour. This might sound a bit intimidating but it really doesn't have to be that difficult. Get all of the relevant apps on your phone and setup your notification settings so you don't miss anything.
Responding to messages quickly isn't the only way to stay connected to your audience though. Keep an eye out for customers posting pictures and comments about your cafe or restaurant on social media. Almost all platforms now allow you to search for specific words, so each day spend 5 minutes doing a quick check for any new comments. If you find any, be sure to reply, or repost. People love taking pictures of food, so if your guests are doing this then use them in your social media marketing.
Trip Advisor is great for cafes and restaurants, so run it like a social media channel. Encourage your visitors to leave you reviews and comments and be sure to say thanks when they do. A responsive cafe or restaurant is much more likely to convert new customers than one which appears to have no voice.

2 – Get your details right
Most social media channels have some sort of 'about' or 'bio' section which allows cafes and restaurants to say a little about themselves. It's absolutely essential that all of your business information is filled in completely. Some networks, such as FourSquare, have check-in features, but these won't work if your business information isn't correct.
Even if you don't intend to use all channels properly, having the correct details on each channel in full is vital. Make sure to include a link to your website so people can find out more, or link directly to your menu so your visitors can get straight into the action. Remember, if anyone has any questions about your business this will be one of the first places they check, so your address, postcode and opening times all need to be there and need to be accurate. Keep them updated to reflect your opening times and different times of the year too, if your opening times change over Christmas and New Year for example, make sure this information is on your profile to avoid frustrating potential customers.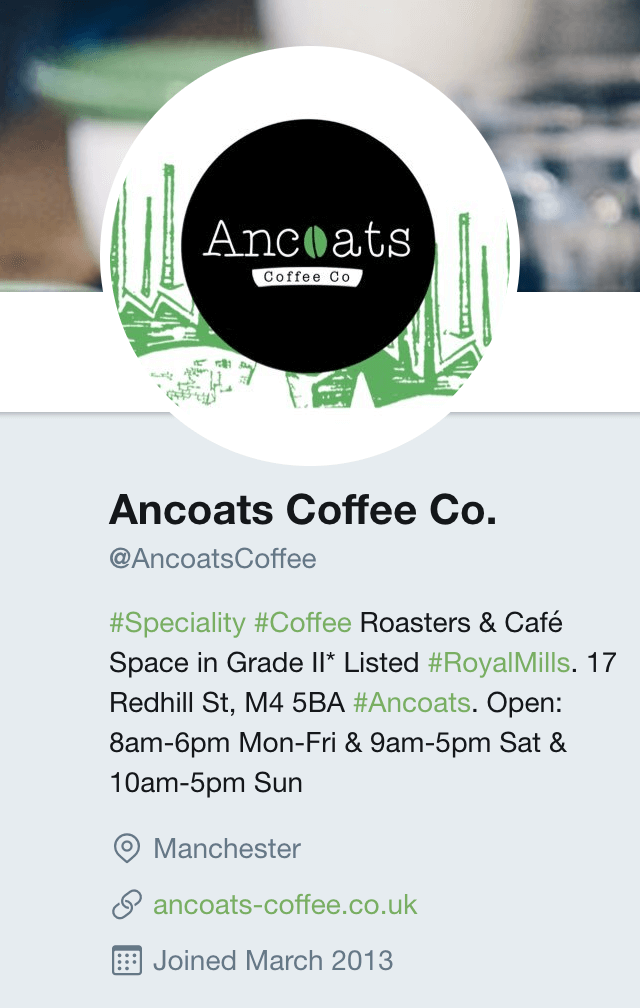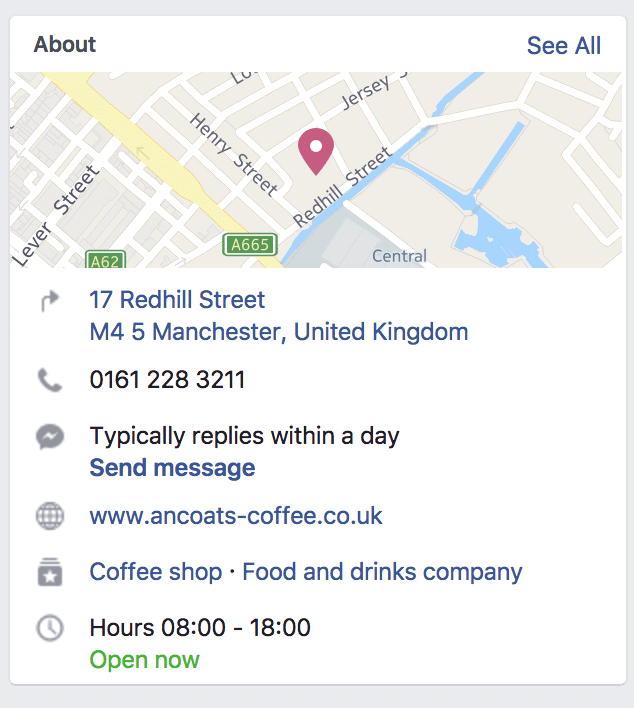 3 – Think of your channels as your portfolio
With organic, unprompted posts on Facebook and Twitter now being seen by less and less people, it's helpful to think of social media channels for restaurants and cafes as shop windows, or portfolio pages. Whilst it's important to post a variety of different content to engage your audience, nothing gets people more excited about visiting a cafe or restaurant than some mouthwatering pictures or videos of the delicious food on offer.
Spend a couple of minutes making sure the lighting is right, take a look at some of the popular food related hashtags on Instagram if you're not sure how to compose a great shot. Make sure you get plenty of pictures of your dishes and mention interesting things about them, what have you done differently, where have the ingredients come from? Letting people know a little of the background to your creations will increase their perceived value and encourage customers to convert. If you don't have time to do this every day then keep an eye out for images your customers posts and use these and publicly thank the customer, it's a great way to build your relationships whilst also saving you time.
4 – Mention your location in your posts
The majority of social media channels offer the ability to search posts. Following in Google's footsteps, many are now also introducing location-specific search results. When you compose your messages, take the opportunity to flag up your restaurants location or, even better use it as a hashtag. By doing this you'll hugely increase your changes of being found by someone looking for somewhere nearby to grab a bite to eat. Some networks even include a 'near me' feature, specifically filtering recent posts to display only those in their surrounding area, so you might even catch the attention or someone who wasn't specifically looking for somewhere to eat, but if your posting a great picture of something delicious they will be powerless to resist!
5 – Make sure your @ names are seen by all your customers
Some cafes and restaurants are able to get huge social followings off the back of happy customers raving about their food on social media. How can you achieve this? A good place to start is to make it as easy as possible for them to do this so take every opportunity to show them where they can find you.
At the very least you should have your channel address or @ page name on your menu, since all your customers will see it. Don't just stop there though, you need to catch them at the right moment, so put it on a sign by the bar and if you print receipts make sure it's prominently featured there too. You could even go a step further and add an incentive for customers on your receipts, "review us on trip advisor for a 10% discount on your next visit", a sure fire way to quickly amass reviews than can do wonders for your reputation.
Bonus tip – Geo targeting
If you're thinking of using paid advertising on social media then make sure you spend time setting up your targeting properly. If you have already established your ideal demographic then most social media platforms will enable you to laser target your ads to that demographic. If you don't, then try out a few low budget ads simultaneously and discover which gets you the best results. Whatever approach you take, be certain to geo target your posts. Most channels will allow you to target a specific area, so don't waste money with nationwide ads, focus in on your surrounding area to get in front of the customers who can easily visit your cafe or restaurant.
These are a few tips that can help cafes and restaurants grow their businesses using social media paid advertising. Not everyone has time to do this properly, but the rewards of doing so will almost certainly result in more foot traffic through the doors of your business. If you need a little help coming up with a plan or staying on top of it all, we're here to help. We offer full technical audits of channel information, channel setup, artwork creation, customer engagement and more. Get in touch to find out more or read about our social media marketing services here.