For businesses of all types, having a presence on social media is essential. For gyms and personal trainers, social media is a great way to show off their services to both new and current clients. Platforms like Facebook, Instagram, YouTube & Twitter also offer these businesses a chance to communicate with their audience, receiving feedback and providing answers to practical questions about their classes and programmes.
More recently, platforms like Facebook have clamped down on their organic reach, making it more challenging for businesses to communicate their messaging to the audience without paying for the privilege.
This throws up a lot of questions about the evolving role of social media for businesses. On a more immediate, practical level however, it makes sense for businesses to do what they can to make sure they're using their social platforms in the best way possible. Let's take a look a 5 tips that can help gyms and personal trainers get more from their channels.
1. Create a content schedule & give people a reason to be fans
If you want to build up the numbers on you social media channels it's vital to think about why people engage with brands on social media. It's quite straightforward to ask existing customers to give you a like, follow or review and that's certainly something you should do, but what about people beyond your immediate circles? People who don't have a relationship with you already are going to respond best to content which is useful to them, so use the knowledge and expertise you've spent years building up to make some.
You could write something fairly applicable to all, the dangers of poor form, how to tell when you're overtraining etc. or something more specific to a niche that your business covers, safe yoga practises when you're pregnant, the best exercises for people with previous back injuries etc. Whatever you decide your contribution will be, it's important to make a content schedule and stick to it. You could post as little as one or twice a week as long as what you're posting is useful and well crafted. The numbers might not increase immediately, large meaningful followings are valuable because they take a long time to build, but by regularly publishing great content you'll position yourself as an authority in your niche. In doing so you're giving people from all over the world a reason to follow you.
2. Use Hashtags properly
Hashtags offer a way of showcasing your content to people way beyond your immediate circles, so embrace them! Don't abuse this, of course, it's going to be relevant for a picture of your latest workout technique, but if you can work in some popular hashtags in a relevant way you're sure to increase your engagement and grow your audience.
There are plenty of tools online to discover what the most popular hashtags are on each platform, so take a look and consider which are relevant for the kinds of people you'd like to reach. Most of the popular platforms now support hashtags, but remember that they don't necessarily talk to each other, so the popular hashtags on LinkedIn are going to be different to those on Twitter.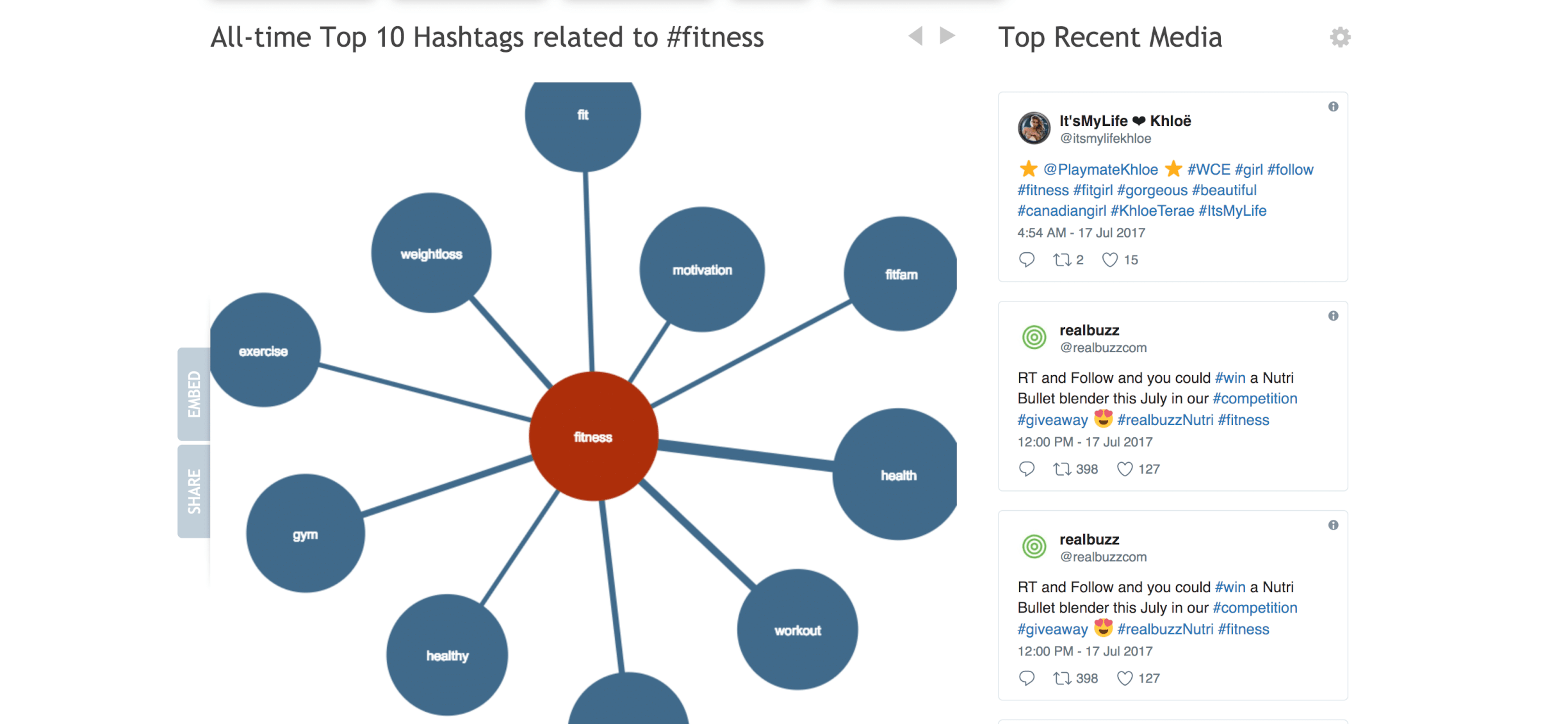 3. Integrate social media into your routine
Remember that what you do each day is exactly the kind of thing that makes for great social media content, so try to incorporate it into your day in a natural way. When you're having a rest from your last set, take a moment to snap a picture. If you eat healthy or have a meal plan you follow for yourself, take a couple of minutes to make it look nice and grab a shot of that. Whilst complex carbohydrates and proteins can seem like common sense to fitness professionals, taking the time to share and explain this to your following with a well composed picture will do wonders for building your authority on social media. Think about other aspects of your healthy living practises that have become normal to you, how can you share them with others and use them in your social media marketing?
4. Get your pages optimised & drive traffic to your site
For many businesses using social media, their accounts and profiles were set up years ago and have been kept ticking over ever since. You may have even been posting regularly in that time, but even established pages are often filled with errors and outdated information that can make it that much difficult for your potential customers to find you. People have short attention spans on social media, if a potential customer finds conflicting address information on your channels and can't quickly understand where your business is based they're likely to move on. Once a month, carry out a quick check of your bio information, address, website links and other information on your channels. Make sure it's all accurate and matches your Google Maps data.
Keep an eye on the visual layout of your channels too. Social media sites update their user's profile layouts surprisingly often, so it's worth checking that your header images haven't been stretched out of shape or your profile picture hasn't turned into a circle and cropped out half of your logo – as happened to many following a recent twitter update.
How not to crop your profile picture for maximum impact
Drive traffic to your website by including links to your latest blogs or service pages in your bio information. Most social channels offer a section for a link, so make sure you're getting the most from it. Whilst customers may visit your channels, not all of them will convert there, so make it easy for them by directing them to part of your website that really sells what you do and makes it easy for them to convert.
5. Curate content for your audience
Part of the value that you offer to your potential customers is your industry expertise. Put aside a little time each week to find a couple of articles or stories online that are relevant to your audience. Remember, your customers aren't going to scour the internet for fitness content, that's your job. By finding and presenting the most interesting content, your demonstrating to people that you know what you're talking about and giving them a reason to keep following you. This content could be so many different things, it could be a useful fitness related product, a scientific study, or even an article you disagree with, a video review of a new fitness machine, anything. Before you post it, take a moment to personalise it with a comment and any relevant tags; do you agree with with? Is it relevant to all, or just beginners or experienced athletes?
These are just a few tips that should be followed if you want to get the most out of your social media presence. Remember, building a big following doesn't happen overnight, so don't give up on your content plan if you don't get instant results. With perseverance and dedicate your channels will grow, so stick at it. PPC options are always there when you need an immediate boost, but need to be done properly or else they can become a drain on resources. If you need a hand marketing your gym or training business on social media get in touch, as experienced provider of marketing services to health and fitness businesses we're in a great position to advise you on how to get more from your digital presence.