Google Maps was launched in June 2005, displaying conventional maps, roads and satellite images from a separate screen accessed by a Maps link a the top of search engine results pages
In late 2006, Google incorporated location details of businesses with location markers, from a growing database known as the local business centre. Data is partially collected from the Google website index and also allows business owners to verify their location and complete profiles.

Initially this feature was called Local Business Centre but was later renamed Google Places and now Google My Business. You can find out how to set up your free account below.
Some unclaimed profiles are auto completed by Google and can be incorrect
Check whether you have a listing and if so – is it correct?
Search for your business name (and variations) in Google Maps
It is possible to improve the performance of local business listings with an SEO agency.
How to set up your Google My Business profile
Go to the Google My Business page and open an account
It can help if you use an email address when setting up, that is corresponding with your web domain name
ie: http://www.xyzbusiness.co.uk = john…@xyzbusiness.co.uk
Use your official trading name as your business title (Make sure it corresponds exactly with your business name listed on your website)
Your business location
If your business serves customers at their locations you can make your business address invisible to searchers
You can drag the marker on the map to reposition it
Specify the coverage of your business, via miles in radius or by town/county/country
Once your profile is finished you will have to confirm the listing via an automated system that will send a code to enter, via text, phone or post
Your business details
Make your business description as succinct and informative as possible
Add photos, even if just your logo – full profiles rank better than incomplete competitors
Choose your business categories carefully
Spend some time working out which categories best describe your business
These categories are a factor of the keyword relevance algorithm
Any changes to your places listing can take a while to update and translate into rankings on search results
Google My Business in action
Google search has the ability to remember your physical location from previous searches. Google can predict which of your searches are most likely to benefit from local results and delivers them as results on the map.
Obviously there is a clear advantage to appearing as a places listing, the convenience of being able to click through to a local service provider increases enquiries for your their services and products
Searching on Google for the keywords, Plumber Manchester
A search for plumber is made with the geo-location "Manchester" added to confirm that the search is for Plumbers in Manchester. Google delivers a 3-pack of results.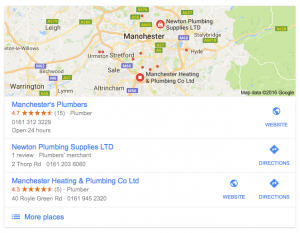 The reason these 3 business appear in the results is quite complex and will be explained in more detail in a future blog post, but generally the businesses listed are those with the best links and SEO for the keywords "Plumber Manchester".
These results vary from searches in different locations and depending on your browser search history which is collected with cookies.
How to get featured on Bing Places
Other search engines have their own Maps functionality and corresponding business directories. The biggest competitor to Google at the moment is Bing, who have a similar submission service to Google which they call Bing Places.
Bing's owners Microsoft utilise their own mapping date, which has historically used data from Market location, you can submit your business here.
Local business listings search optimisation
Local places optimisation services as well as organic SEO services will help your listing perform better in local search results.