With the organic reach of (unpaid) social media posts at an all time low, many business owners are turning to paid social posts in order to reach their customers.
Of course, social networks make it as easy as possible for you to give them your money, but just spending without a plan doesn't guarantee results. Most often at Alloy we see randomly promoted Facebook posts, £10 here, £20 there. This is one of the best ways to loose money on paid social advertising. If you want to get results it's important to really consider what you're spending on first or you're unlikely to notice a return on your investment. Before you hand your money over to Facebook or any other social site, have a read of our general introduction and arm yourself with the information they really don't want to you to bother reading.
Why is organic reach so low?
When we talk about organic reach, we're talking about the visibility of unpaid content posted on social media channels. Whether you're using Instagram, Twitter, Facebook, LinkedIn or another platform, not everyone you're connected to is going to see the stuff you post. Why is organic reach so low?
Most platform will justify the limited space they give to organic content with the explanation that there's too much content being posted and they want to show their users only the best and most relevant content. There may well be some truth in that, if you've followed or liked hundreds of accounts over the years then your newsfeed could easily be thousands of posts long each day. The other explanation is, of course, that being able to control the ability of businesses to reach their audience is basically a license to print money. Take a look at this graph charting the declining organic reach of a Facebook post against their share prices from the end of 2013 to early 2014. Oh the days of 5% organic reach- unfortunately nowadays, consensus is that it's much lower.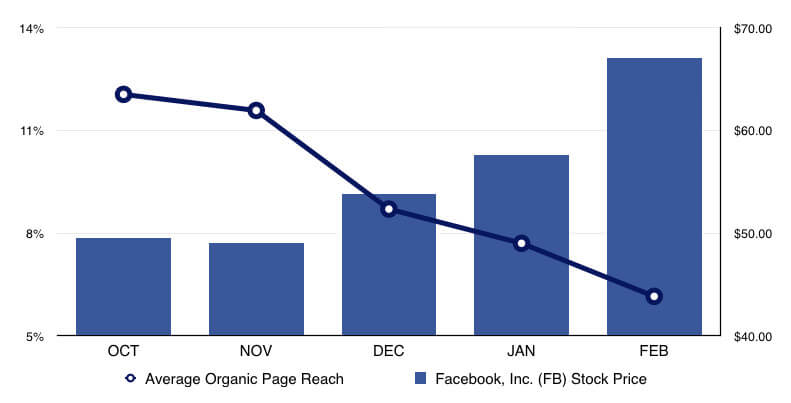 Don't impulse buy paid social posts
If you're thinking about trying out some paid social posts, make sure you take a considered approach. Do not let any social media site lure you into spending money that you could have otherwise invested in other, more tried, tested and trackable methods.
One of the worst for this is Facebook. Have you ever seen a notification to effect of 'Your post is performing better than X% of other posts on your page' or 'Paid admins have boosted posts similar to…' and 'Boost this post for £5 to reach 20,000 people'? Having managed multiple pages for years, we can safely tell you that these notifications are nonsense. It's the equivalent of putting the chocolate bars by the till in the supermarket. Don't impulse buy paid social posts on any platform, you're not missing out on any golden opportunities.

How to do paid social posts properly
There are many different way to spend money advertising on social media, from Facebook and Instagram to Twitter, LinkedIn, Youtube and other smaller networks. The first thing to consider is where you're going to focus your efforts. Think about the type of customer you're trying to reach. If your services are aimed at businesses, for example, LinkedIn might be a better place to get started than Twitter.
Have a paid social strategy
As with all marketing, paid posting needs a strategy. Consider about what it is you want to achieve with your budget. Facebook would encourage you to think that having your post seen by X many people is enough, but there is far more you can do than this. Brand awareness is valuable for sure, but most platforms offer a range of different objectives that could be more helpful, for example the ability to capture email addresses and build your own database that you won't have to pay to reach in future. Other aims could be to send traffic to a specific section of your website or promote a particular product or service.
Choose your content wisely
As well as your objective, send some time considering the type of content you'll be promoting. Social media sites will happily take your money to promote almost anything, but even if you're paying, your content won't actually do much if it's not the type of content your followers respond to. Take a look at some of your organic posts, which of them have had the best reception? Look at what works and refine it, what do you posts that perform well have in common? Do they ask a question, feature a specific person or cover a particular topic? Spontaneously boosting a post is easy, but you'll get better results if you hang fire until you've got some facts to work from.
Manage your campaign
Whatever network you're using, there's likely to be some type of advertising manager on the platform. To get the best return on your social media advertising it's essential to use it. Not only will you be able to target your advertising more accurately, you'll be able to get a much more detailed insight into who you're reaching. You can then use this information to target any future campaigns even more accurately, improving your return on investment even more.
Tools such as Facebook Adverts Manager can be a little intimidating to look at initially, but don't let that stop you from getting stuck in. There's plenty of information online to help you get started and understand the more complicated aspects of these tools, some of it is even right here on the Alloy Marketing blog.
These advertising managers also give you full access to the range of different objectives and types of advert you can use on the platform. Don't make the mistake of thinking that the most visible option is the best, have a dig around and do a little research, or if you're not sure what's best for you then partner with a company who can help you target your ad budget in the most effective manner.
Paid social 101
I hope that introduction to paid social posting has been helpful. If you're still not sure what's best for you, or simply don't have the time to get stuck into it yourself, we'd be happy to help set up and run a campaign for you. We've helped loads of businesses large and small with their campaigns, from setting up targeting to breaking down the results into easy-to-digest reports. We're here to help you get results from your ad budget.
Looking for more information? We offer a number of social media marketing options here.