This is a tough one, as they all offer different priced packages, for different locations of the UK and also for different business categories. And as you may already know – they have some very persistent salespeople to say the least!Offers really need to be considered on an individual basis – so please do get in touch with information of your package for a second opinion on anything.As a general rule though, these directories base their high prices on 2 benefits:
Having a listing on their site (especially useful to those companies who dont own a website) and also being featured near the top of categories within the directory
But more importantly – the high prices are based on the SEO benefits that these directory listings (used to) pass on to your business website – via the flow of authority through the link.
For almost a decade now it has been possible to buy these upgaded listings, from a few directories and as a result of the link authority passed over, your website could rank very high in the search results for your region. In effect, those companies who had the money to upgrade all their listings, would dominate the results in an unnatural way that does not offer Google's users with the highest quality companies, but instead those companies who were prepared to pay.Fast-forward to 2012 and the search engine algorithms have advanced, to be able to minimise the unnatural influence of directory links on the search results. The directory companies know this, and are making their last ditch efforts to get some money out of customers not up-to-date with the increasing rate of change within the Microsoft and Google search quality algorithms.
So, if the SEO benefit from all these directories is fairly similar –
What are the viewing numbers of these websites – and which would be the best to advertise on?
Of course – getting a free listing on all of them is a great starting point – and this service is provided for you if you are paying for a monthly marketing plan. But as they all charge to upgrade -the difficult choice is prioritising which to invest in…In general my recommendations are as follows:
Free listing on all of them should be your #1 investment (covered in monthly marketing plans)
Upgrade Yell -depending on quoted price (from £200 p/year)
Upgrade Qype – depending on quoted price (from £100 p/year)
Upgrade Hotfrog– depending on quoted price (from £100 p/year)
Upgrade Yahoo(city-visitor) – depending on quoted price (from £100 p/year)
Upgrade Thomson Local – depending on quoted price
Upgrade Touchlocal – depending on quoted price
However – if you are operating in a B2B market – you need to consider B2B only directories as another selection of options. Every niche will have certain directories that need to be pursued- so pelase get in touch for more information and advice based on experiences from previous clients.
Here's the data the directory companies probably dont want you to know – it's a year old but gives a good idea of the scale of readership and also rate of change.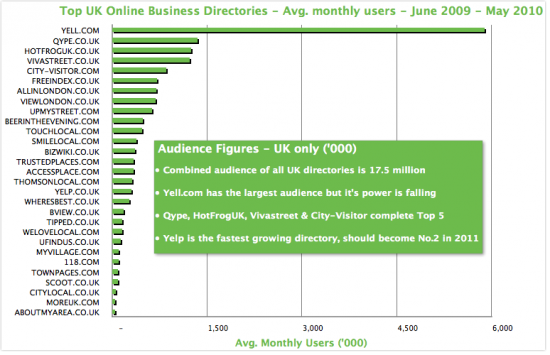 Based on the following rates of change below – you can get an idea that even Yelp, would not likely be able to compete with Yell, Qype, hotfrog or Vivastreet.