You may have recently heard about Google's mysterious 'Possum' update and wondered what all the fuss was about. If you run a local business and rely on leads from Google maps this one directly affects you, so we're here to help shed some light on the topic.
On the 1st September 2016 many analysts noticed major changes in the way Google displayed local results, particularly with regards to the 3-Pack maps listings. These changes are being referred to as the 'Possum' update, although not by Google themselves!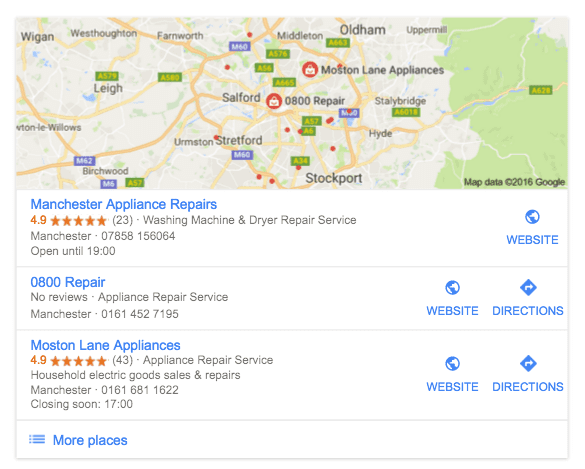 Google have not, in fact, acknowledged any change to their systems. Industry experts have scrambled to figure out exactly what has happened and what the effects may be. It has been suggested that Google are actually experimenting with multiple updates, since different analysts have noted different changes depending on region, search terms and other variables. One thing that is generally agreed upon however, is that this seems to be a fairly major revision in the way Google delivers local search results.
What do we know
Based on what we've seen so far, it seems that with Possum Google has begun to apply stricter filtering to businesses that share an address. We already knew that Google didn't favour duplicate listings for businesses, but it now seems the algorithms are even more accurate in detecting and filtering multiple businesses registered to the same address. Even businesses with different names which are registered to different addresses are being filtered if Google recognises they have the same owner. Furthermore, minor variations in keyword search terms now lead to a greater variation in the local results displayed. The intention of these refinements is largely thought to be the delivery of a greater variety of business results to the end user.
An emerging advantage for small businesses seemingly created by the Possum update is a softening of filtering local results based on city limits. Business based outside of a city centre are now more likely to appear in the 3-Pack map results box where before they may have been excluded and not thought of as within the city. This is generally a good thing for small businesses; competition for space in town centres is greater than ever, so knowing that your business won't be penalised for being based further out of town is great. Google now seems to weight more heavily in the algorithm, the radius in which the business operates, so you could be based several miles from the town centre but still rank highly for services in the town.
How to respond to the Possum update
So how can we respond to the update? Most industry analyst's efforts to untangle the details of Possum are ongoing, so sweeping conclusions are not likely to be completely dependable at this point. That said, on a simple level it's clearly now more important than ever to maintain one single accurate business listing for small businesses and focus marketing efforts on supporting that listing.
Furthermore, with Possum implementing more intricate refinements to keyword results, working with an experienced local SEO company is vitally important. If you need help making certain that you're ranking for the most appropriate search terms for your business, or ensuring accuracy of your local listings for best search performance, have a chat with us today, we'd love to help.